Dried Shiitake Mushrooms
Add to cart
$7.35-3oz

A nice generous pack of top quality dried shiitake mushrooms, useful for all types of Asian recipes, and Japanese dashi.
You get lots of mushrooms, each approximately 2" diameter which is just right.
Packed in a nice strong bag.
Product of China.
---
Find this product in the following ImportFood.com Thai recipes: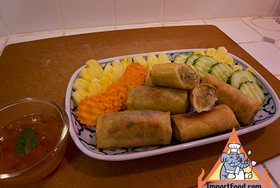 Thai Fried Spring Rolls, 'Poh Pia Tod'
Fried spring rolls are on the menu at Thai, Chinese, or any Asian-style restaurant, and we think this style using genuine Thai beanthread noodles is the best. This is classic snack food that can also fill you up. Make a large batch if you'd like. After cooking the rolls, set them out in the open air without covering them up, and they'll stay crispy.
We also have
Recipe for Fresh Salad Rolls
Recipe for Fresh Spring Rolls
Recipe for Fried Spring Rolls
---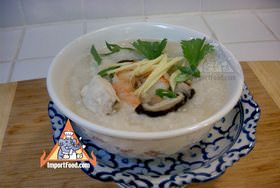 Thai Congee, Rice Porridge, Seafood
Delicious, warm soup for the heart and soul, this is an everyday meal that is often eaten by someone feeling ill similar to the way chicken soup might be used in America. In Thailand you can always find a street vendor offering congee, known in Thai as 'Joke' (taken from Cantonese language), early in the morning. This is often accompanied with
Thai donuts
. A similar recipe is
khao tom
which is not as thick as joke. Enjoy the pictures below as you can see a vendor making Joke the traditional way. Simple and delicious, and not only nutritious but also easy to eat so it's a fine remedy for someone feeling ill.
---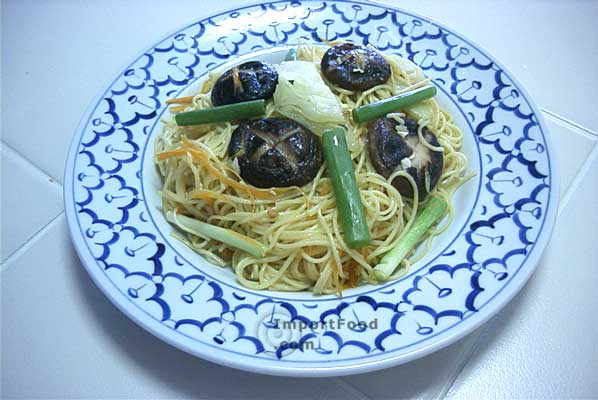 Stir-Fried Mee Sua Noodles (Vegetarian), 'Mee Sua Mangsawirat'
This is a vegetarian dish that has wonderful fresh flavor, usually served on Chinese New Year. The noodles are typically known as "Chinese" and referred to as "Long Life Noodles" because they're very long. It's also the same style commonly served by street vendors in noodle soup as well as in stir fry. We like this with more garlic than suggested below, if you prefer lots of garlic try this recipe and add plenty of it.
---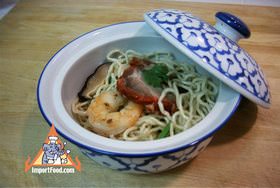 Thai Street Vendor Noodles, 'Ba Mee Haeng'
Ba Mee Haeng is a noodle dish that can be served without soup stock ("ba mee" are noodles, and "haeng" means dry, or without stock), as we made it here. You can also ladle some soup stock over it if preferred.
This recipe is very authentic, and requires a lot of steps, thus demonstrating why most people would buy this from a street vendor cart rather than making it at home.
The key to a good ba mee haeng is the pork & garlic mixture. A good street vendor selling ba mee will prepare a big batch of this each day. The pork used should have lots of fat, then cooked to release the fat and make crispy pork, a few pieces should top off the noodles. We also like to add some sliced red pork to the top of the noodles (some local Asian stores might sell a fresh, already-cooked red pork).
The noodles we used are fresh Chinese-style egg noodles, often found refrigerated in supermarkets.
---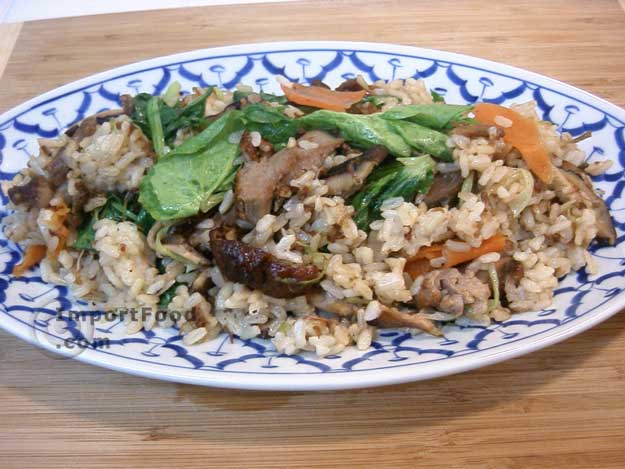 Duck-Fried Rice with Tamarind Sauce
The tamarind sauce that's prepared as part of this recipe is delicious and can be used for all kinds of dishes, and you'll have plenty leftover to experiment with. Duck can be hard to find in certain areas, but some Chinese restaurants will make one for you, or any Asian barbeque should have them available. We purchased a whole duck for $12 near 6th and Jackson St in Seattle's Chinatown, and the shop's proprietor chopped it into pieces for us.
We recommend serving this with hoisin-marinaded pork chops.
---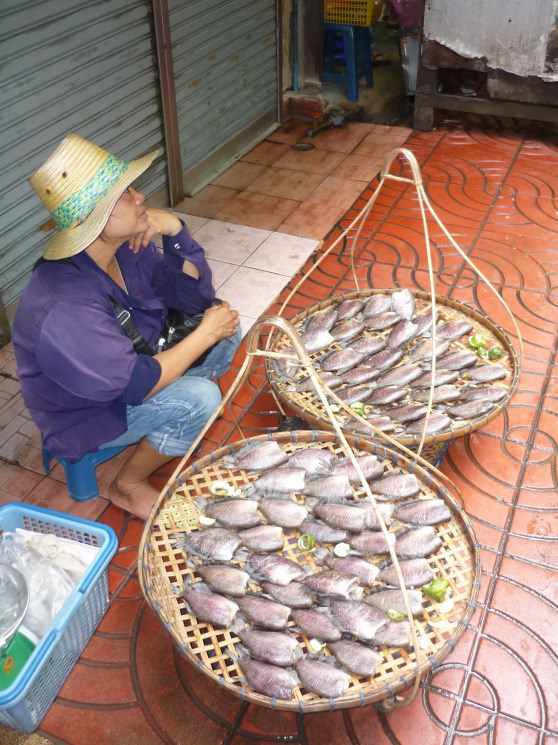 Thai-Style Fried Fish, 'Pla Jian'
This is another simple traditional treatment for fish: this time it is deep fried. The recipe includes some minced pork: this can easily be omitted. It is included in this case only to reproduce the traditional taste, as in the past this dish was deep fried in pork fat, which transferred the pork flavor to the fish. Today it would more typically be fried in vegetable oil, hence the small quantity of pork.
Equally traditionally this dish is deep fried in a wok
The fish is normally fried with the head on.
You need a small-to-medium flat fish (pomfret, flounder, ...), cleaned and with the sides slashed for the marinade to penetrate.
---
Vegetarian Thai Stir-Fried Squash and Mushrooms, 'Phak Thong Phat Het'
This is a more complicated vegetarian squash stir-fry dish with delicate sweet overtones, and it takes just perfect with fresh jasmine rice.
---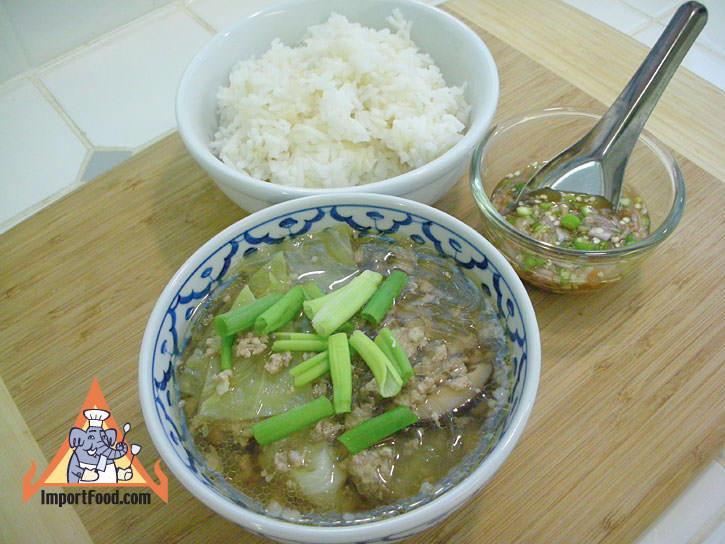 Bean Vermicelli Soup with Pork, 'Tom Jude Woonsen'
The leading ingredient in this recipe is the bean thread vermicelli, also called glass noodles. Made from ground mungbean flour, these clear noodles soak up the flavor of the broth. The soup is mild, rich and unique. Good for the whole family, as it does not have any chile heat unless you add nampla prik separately (read below). We love it with real chicken stock.
---