Thai Congee, Rice Porridge, Seafood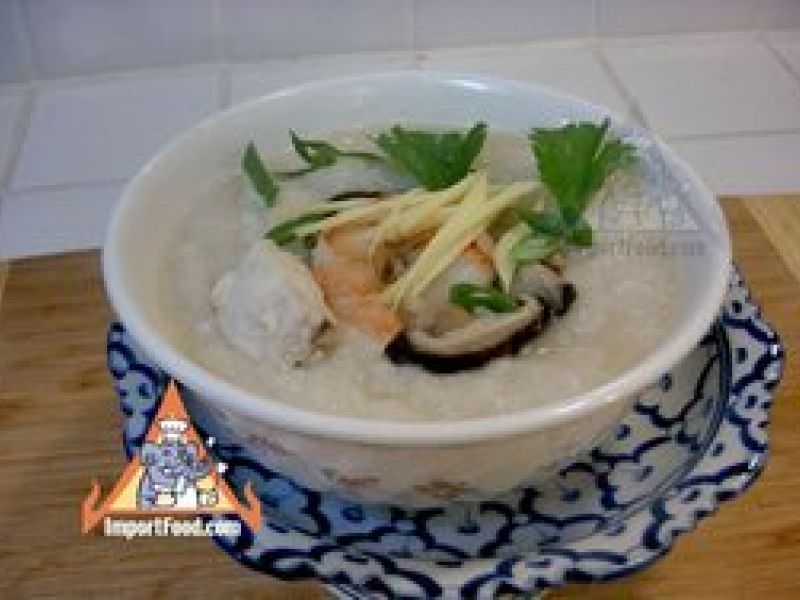 Delicious, warm soup for the heart and soul, this is an everyday meal that is often eaten by someone feeling ill similar to the way chicken soup might be used in America. In Thailand you can always find a street vendor offering congee, known in Thai as 'Joke' (taken from Cantonese language), early in the morning. This is often accompanied with
Thai donuts
. A similar recipe is
khao tom
which is not as thick as joke. Enjoy the pictures below as you can see a vendor making Joke the traditional way. Simple and delicious, and not only nutritious but also easy to eat so it's a fine remedy for someone feeling ill.
Ingredients
For 4 Person(s)
Ingredients
1 1/4

Cups Broken Rice

5

Cups

Water

1/4

Teaspoon

Salt

9

Cups

Chicken Broth or Pork Broth

1 1/2

Cups

Cooked Large Shrimp (or ground pork or other meat you prefer)
Ingredients For Garnish
Thai Pepper Powder

Mushroom Soy Sauce

Finely Slivered Fresh Ginger, or our Thai ginger

Spring Onions
Buy ingredients for this Recipe
Method for Thai Congee, Rice Porridge, Seafood
Boil broken rice with water, salt, and oil on medium heat. Keep stirring constantly until the rice is very soft and breaks apart (30-45 minutes).
Prepare the traditional stock using bullion cubes or pork bones.
Scoop about 1 1/2 cups cooked rice into another medium sized soup pot with 1 cup broth. Bring it to a boil, stirring, and season with a bit of soy sauce. Adjust the flavor as you prefer.
Transfer to a serving bowl. Top with cooked seafood, mushroom, onion and cilantro. Sprinkle with Thai pepper powder. Add a touch of dried ground chile at the end for added flavor. Serve hot and enjoy! We offer an instant joke porridge by Kaset.
Seafood congee rice porridge

Reviews