Thai Street Vendor Kit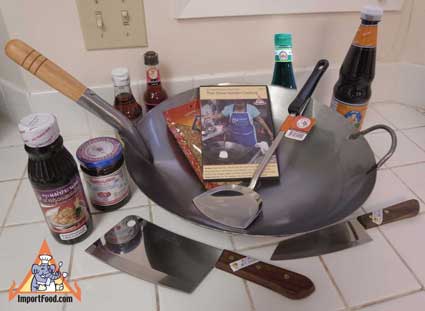 Add to cart
Temporarily Out of Stock

We were unable to get woks on our last shipment from Thailand, so this kit is not being offered. We are working to get more woks by October/November. Sorry for the inconvenience.
Our professionally-produced Thai Street Vendor videos are known and loved for their simplicity in teaching anyone how to cook authentic Thai food like an experienced street vendor. As a gift for yourself or someone who likes Thai food, here is an ideal kit.
We included all of the important cookware and ingredients to start cooking. The street vendor wok comes with printed instructions on how to season it. Also included is the Zebra long-handle stainless work turner, and much more as listed below. A fantastic value. As a direct importer of the finest food & cookware from Thailand, only we can offer such a great deal.
IMPORTANT: the street vendor wok is out of stock and won't ship until first week of June. The rest of the items will ship immediately. Sorry for the inconvenience.