Soy Sauce, Dark Thick, DSB Dragonfly Brand
Soy Sauce, Dark Thick, DSB Dragonfly Brand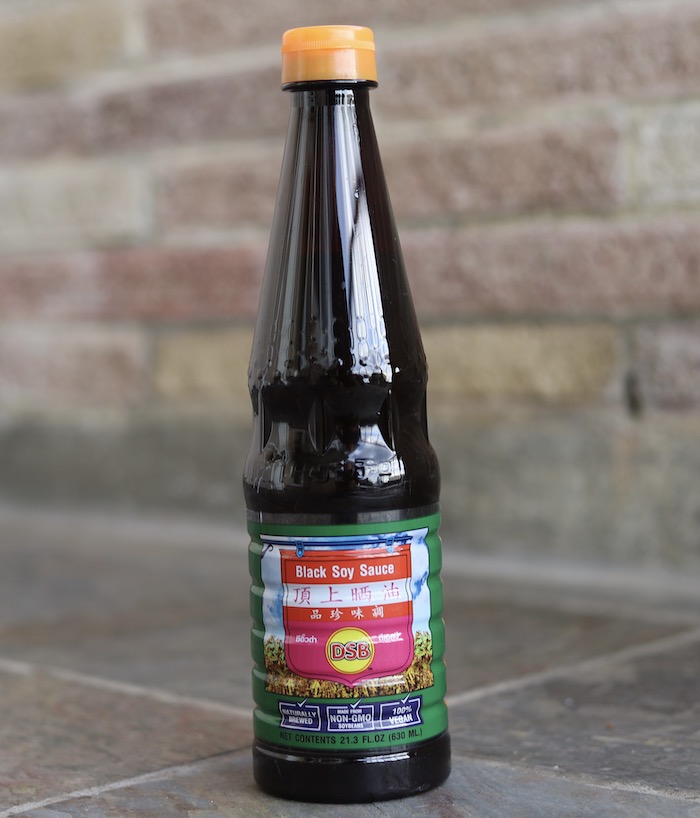 Add to cart
19oz-$8.89

DSB is a new from Thai premier producer Healthy Boy, a formula designed like 'Dragonfly' brand.
Also known as 'black' soy sauce. Used in a variety of Thai recipes, see some sample links below and:
Street Vendor Videos
Pad Thai made by a street vendor in Thailand using dark thick soy sauce
Radna wide noodles in gravy
Stir fried seafood with Thai basil
Dark soy (in Thai, siu-dahm) is opaque, black, and viscous. The most prominent characteristic is the dark color and the taste of palm sugar molasses (when the sweetness is removed from palm sugar, the remaining molasses is added to this soy sauce to create a very unique, wonderful flavor). Not nearly as sweet as sweet soy.
Dark Thick in our Set of Four Thai Sauces
Popular Thai dark thick soy sauce. Made using the natural fermentation method. Please see our feature story on how soy sauce is made.
Ingredients: syrup (glucose, fructose), water, molasses, sugar, soy sauce (defatted soybean, wheat, salt, water), salt, natural color, citric acid, sodium benzoate.
Product of Thailand.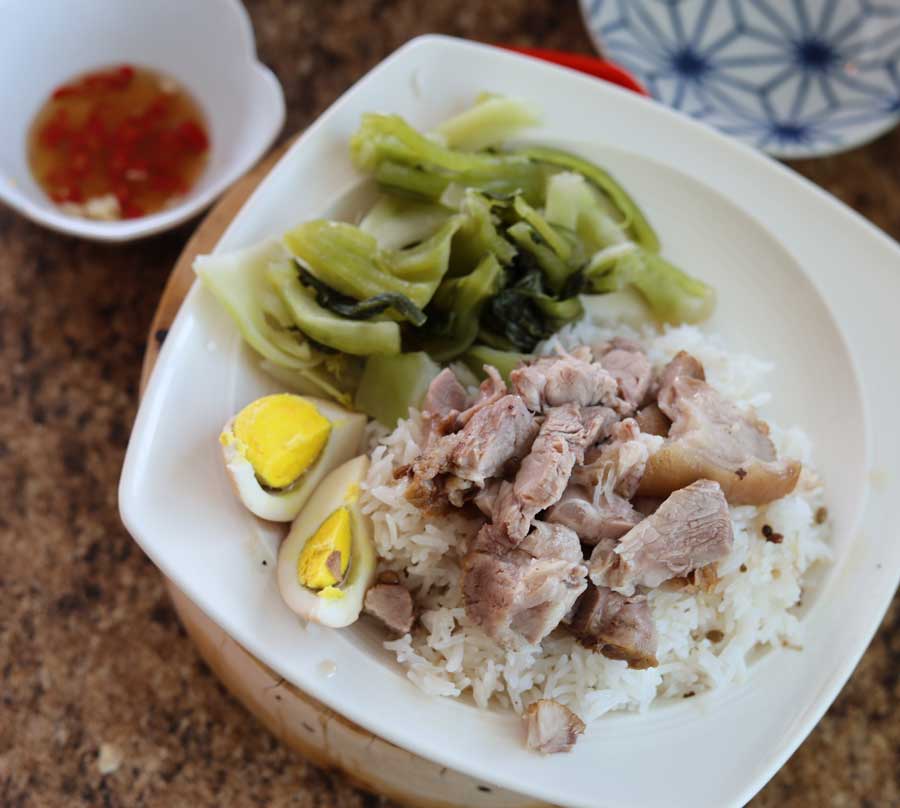 Pork Leg on Rice, 'Khao Kha Moo'
Khao Kha Moo is not only a favorite of Thailand's Prime Minister (a celebrity chef), it's also one of those ubiquitous dishes served by street vendors throughout Thailand. If you think it's hard to make at home--it's not! The recipe below makes a wonderful khao kha moo but be sure you get the right piece of meat. Ask a butcher for a pork shank, fresh. You must get it "fresh" which means it has not been cured or smoked. Even if it's frozen that's fine just state "fresh" to denote that you don't want it already smoked or cured. Hock (cut from the shoulder) is also a cut that works fine. Try to get a front leg, as the back legs contain more fat and less meat.
---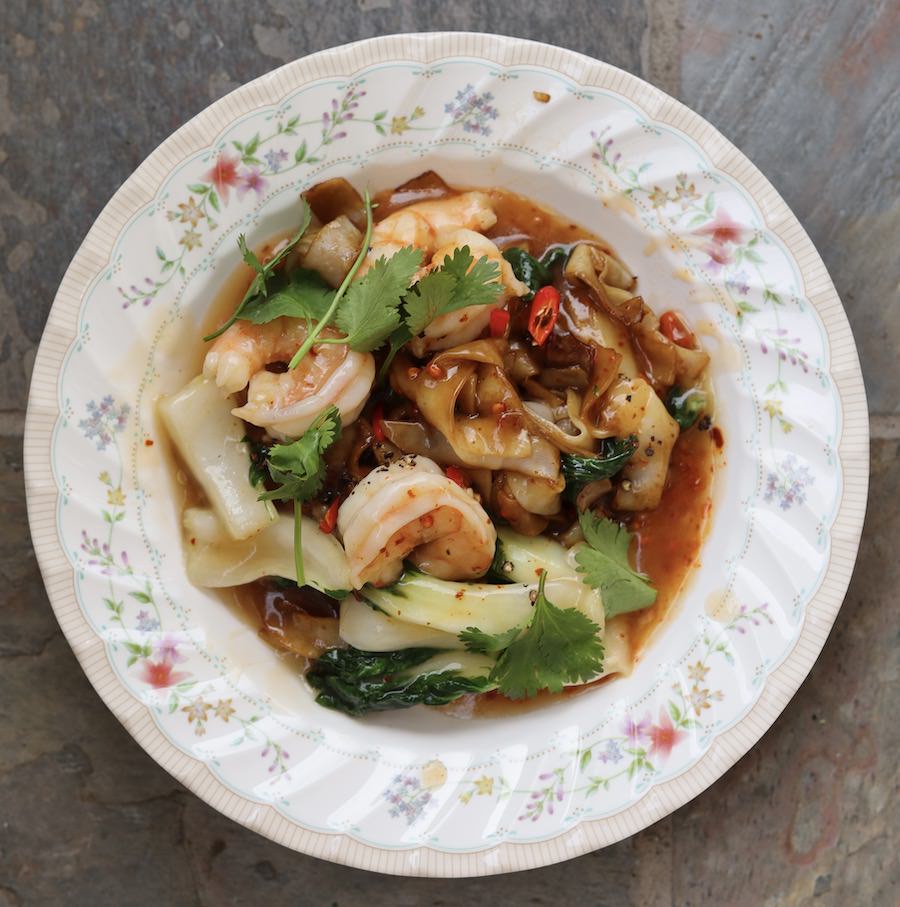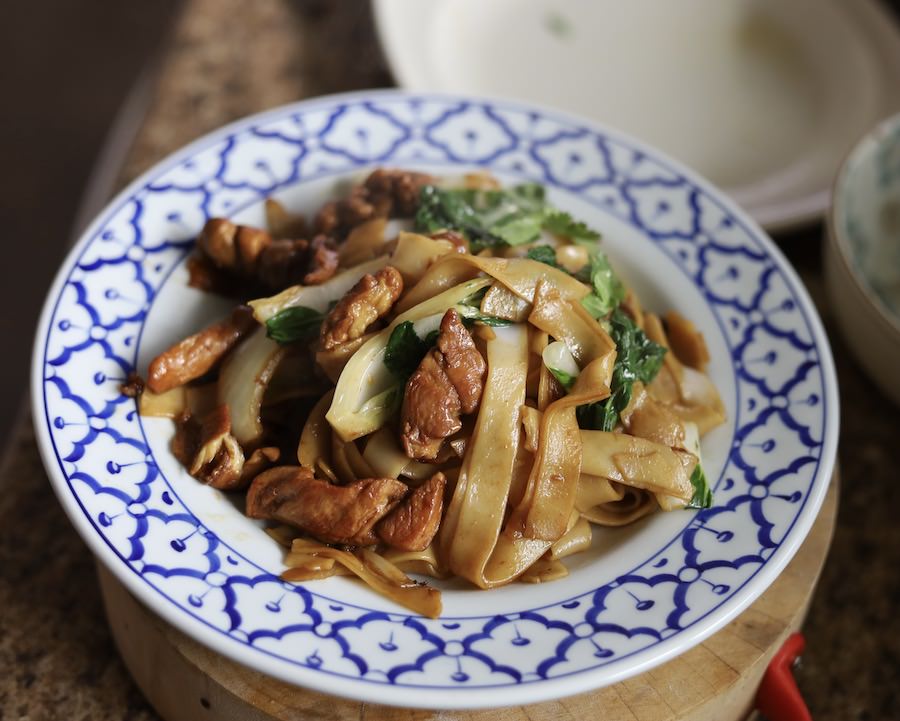 Thai Druken Noodles, Kee Mao, Chicken
This is a new, slightly less-spicy version of our original kee mao recipe. Kee Mao are drunken noodles, meaning eaten drunk, fiery hot spice level, with beer and/or other alcohol.
The fresh ginger is a nice touch but optional and not authentic Thai for Kee Mao. Add more fresh Thai chilli peppers to increase heat level.
We like using dark thick soy sauce to give the chicken a darker color but you can also use thin soy sauce instead.
This has a touch of MSG which is optional but recommended here to get the optimal flavor.
---
We recommend this product in the following ImportFood.com Thai recipes