Red Eye Chili Paste (Namprik Ta Dang), Mae Pranom Thailand
Red Eye Chili Paste (Namprik Ta Dang), Mae Pranom Thailand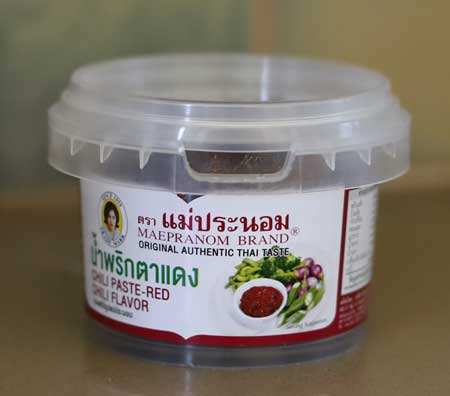 Add to cart
$4.59-3.17oz

New product from premium producer Mae Pranom. It says in Thai "Ta Dang" (Ta = eye, Dang = red). This is red eye chili paste with a true Thai flavor that wouldn't usually be found outside of Thailand.
Packed in a strong plastic container with tightly-sealing, well constructed lid.
We also have Smoked Fish Namprik from Mae Pranom
Serve with steamed jasmine rice and fresh or boiled vegetables.
Ingredients: dried chili, dried shrimp, garlic, onion, tamarind, sugar, fish sauce, salt, shrimp paste.
Product of Thailand.
We offer the following premium quality MAE PRANOM products