Pineapple Chili Sauce, Mae Pranom Thailand
Pineapple Chili Sauce, Mae Pranom Thailand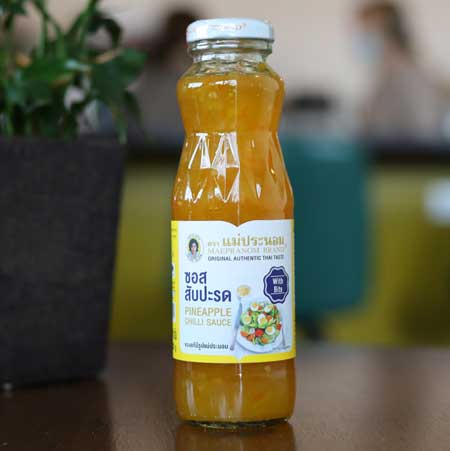 Add to cart
$5.89-11.65oz

Mae Pranom introduced this to markets in Thailand a few years ago, and we have been importing it directly from them ever since. Featured above in our fried pork recipe, also a great sauce to serve with our Thai spring roll recipe.
The flavor is an excellent blend of sweet & tangy with a noticeable burst of chili heat. A wonderful dipping sauce for any grilled, roasted, or fried meats. Not just perfect for dipping spring rolls, this is a great marinade for any style of barbecue.
We got a phone call recently from someone who remarked that Mae Pranom pineapple chili sauce goes perfect with Kansas style barbecue ribs. Apparently someone brought back a few bottles from Thailand and this sauce helped to win a competition.
Packed in a beautiful glass bottle with attractive label, Mae Pranom is a very large producer employing the highest quality standard.
Ingredients: sugar 35%, pineapple 25%, water 25%, yellow chili 5%, vinegar 5%, salt 4%, modified starch 1%. No artificial color, no msg, no preservatives.
Product of Thailand.
---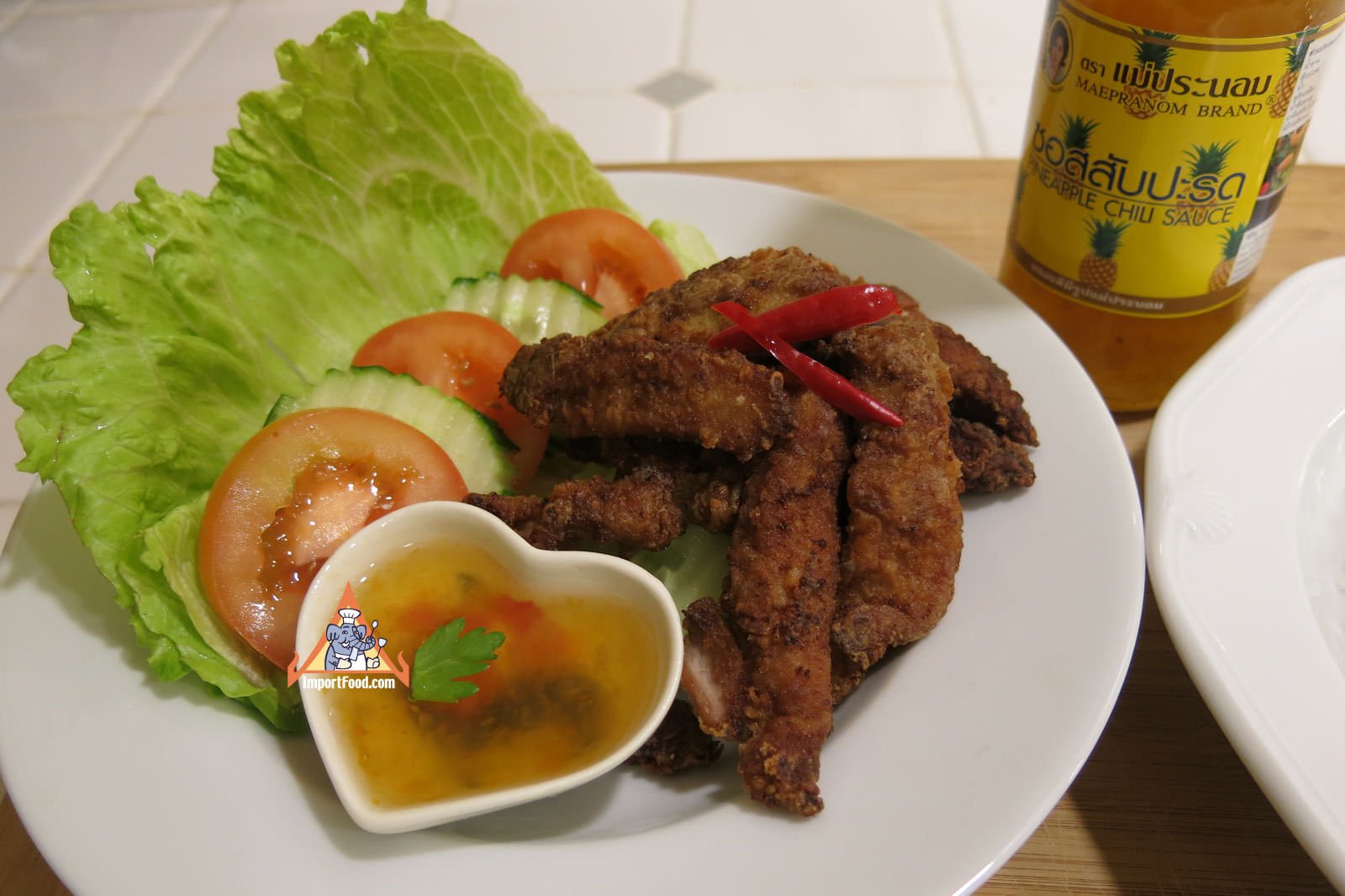 Thai Fried Pork Strips, Moo Kratiem Chup Paeng Tod
This is a marvelous Thai fried pork thanks to the marinade and special flour, and the pork is perfect paired with Thai pineapple chilli sauce. You might be also interested in our recipe for Thai-Style Fried Chicken. Moo = Pork. Kratiem = Garlic. Chup = Dip. Paeng = Flour. Tod = Fried. So this is Garlic Pork Flour-Dipped and Fried. Our Thai batter mix perfectly coats your pork. Our recipe is easy to follow and doesn't take long to make.
---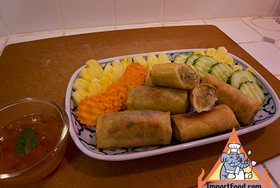 Thai Fried Spring Rolls, 'Poh Pia Tod'
Fried spring rolls are on the menu at Thai, Chinese, or any Asian-style restaurant, and we think this style using genuine Thai beanthread noodles is the best. This is classic snack food that can also fill you up. Make a large batch if you'd like. After cooking the rolls, set them out in the open air without covering them up, and they'll stay crispy.
We also have
Recipe for Fresh Salad Rolls
Recipe for Fresh Spring Rolls
Recipe for Fried Spring Rolls
---
---
Other Great Mae Pranom Products