Thai Red Curry Paste - Aroy-D - Mae Ploy
Thai Red Curry Paste - Aroy-D - Mae Ploy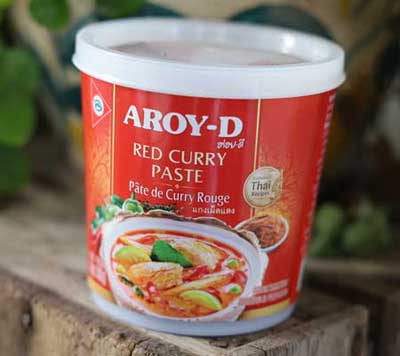 See our Mae Pranom highest quality red curry paste.
See our detailed report on how to make Thai curry paste, and the health benefits.
Red Curry Paste, Aroy-d Brand, 14 oz
Red curry paste is a versatile ingredient in so many Thai recipes, see below links for ideas on how you might cook with it. This is a "gourmet" red curry from Aroy-d which makes consistently the best authentic food products in Thailand. It's likely better than anything you can make at home using a mortar and pestle (see video below on how it's made). With our premium Aroy-d label, you get one 14 oz pack. We like the rich, fresh flavor, we can really taste the difference between this brand and Mae Ploy and Maesri red curry paste. The flavor is more gentle and mild, but you can add your own fresh Thai chiles to make the heat level higher. Taste is complex and heavier to the natural herbs, as only the best all natural ingredients are used. Ingredients: dried red chile, garlic, lemongrass, shallot, salt, galangal, kaffir lime peel, coriander seed, cumin powder. Product of Thailand.
ImportFood.com's curry paste is recommended by Mark Bittman (New York Times). Our customer in Midland TX sent us the following email: "I have just tried the No. 1 Hand Brand red curry paste, and I am embarrased to say how much I ate last night. It is clearly superior to Mae Ploy, and the unit cost is about the same. The flavor is much fresher, brighter, and less grainy. The difference in complexity is like a $45.00 bottle of wine compared to a $14.00 bottle of wine. I also bought the green, and penang pastes, and cant wait to try them."
Red Curry Paste, Mae Ploy brand, 14 oz
We also offer red curry paste in the well-known Mae Ploy brand, recognized in Thailand as a high quality export product with rich taste and authentic flavor. Many Thai restaurants use Mae Ploy, a mass-produced curry paste with consistent flavor. It's packed in a convenient plastic tub with tighly sealed lid, and the price is very affordable (half the cost of Hand Brand when considering the weight). This is an authentic Thai curry paste, not to be confused with less-tasty "readymade" Thai curry in jars or pouches that already have coconut milk mixed in. Ingredients: dried red chile, garlic, shallot, lemongrass, salt, galanga, shrimp paste, kaffir lime peel. Product of Thailand.
---
NEW: See our Vegetarian Red Curry Paste, Mae Pranom Brand
---
Find red curry paste in the following ImportFood.com Thai recipes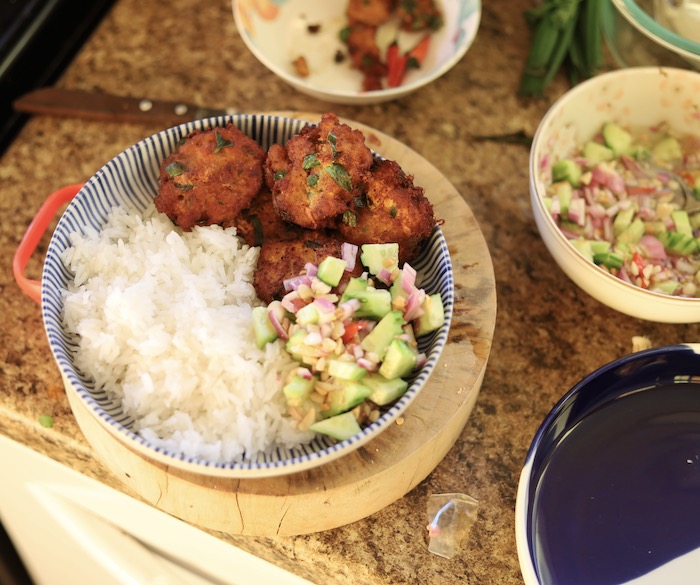 Spicy Thai Fish Cakes, 'Tod Man Pla'
Tod man pla is one of the most famous Thai dishes but seems to be rarely offered on the menus of Thai restaurants in the United States. We're happy to show you how to make it, step-by-step, with great results.
Here we just used cod pieces which can found at local supermarkets.

Also see our Thai Street Vendor video for detailed guidance.
---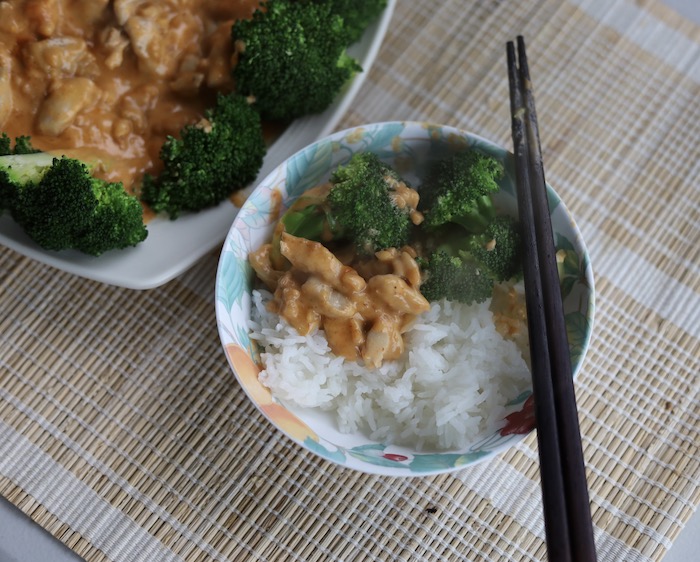 Thai Rama Chicken, 'Praram Long Song'
This dish dates to the time of King Rama 5, about 140 years ago. Originally it was made with beef, but nowadays pork and chicken are often used. Praram is a name for the God Rama, or King Rama, in The Ramkian. The Ramakian is the Thai version of an Indian Hundu epic written 2000 years ago. Long Song translates as 'take a shower'.
Praram Long Song is a popular dish in American Thai restaurants, but not often found in Thailand. Americans are fond of the peanut sauce, and in our recipe it's quite delicious. Sometimes called Swimming Rama, you can use broccoli, spinach, or other greens of your choice.
---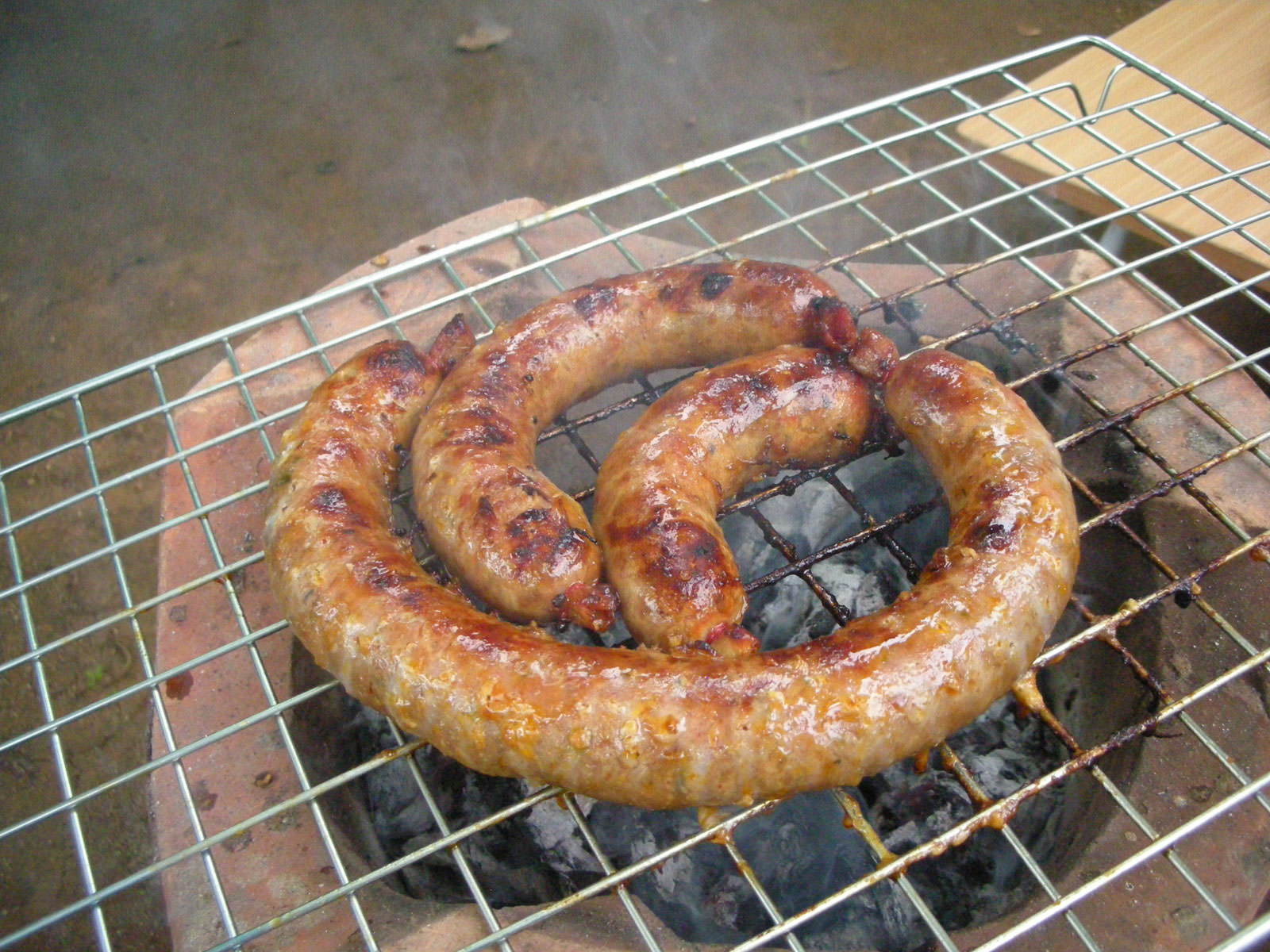 Northern Thai Sausage, 'Sai Oua'
Northern Thai sausage is easy to make, and the mix of ingredients leads to a spectacular result. We would encourage you to make this with ground pork or, for any hunters reading, try this with local elk, deer, wild boar, or other natural meat that you might have. Also watch our video (below left) showing how it's made.
You can't go wrong with this sausage. Please be sure to leave us a comment using the form below if you make it, and share how it turned out.
We also have a recipe for Esan-style Thai sausage, sai grok.
---
---
We also offer the following Thai curry paste
---
Famous Red Curry Vendor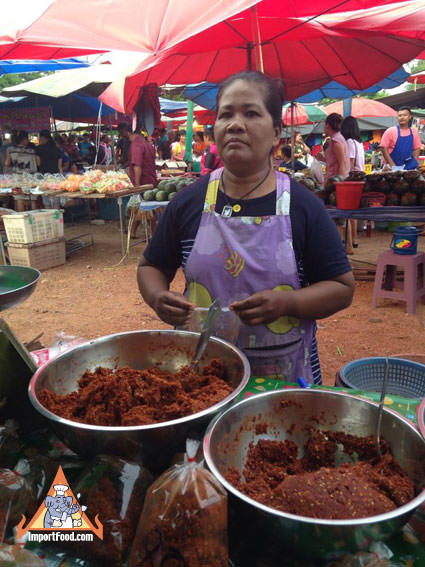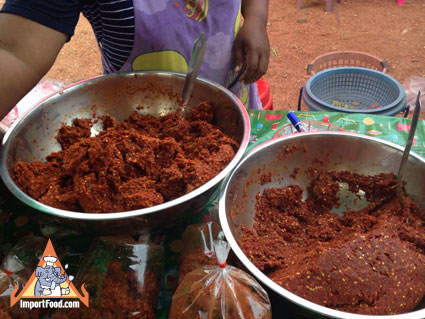 This lady is a legend in the area of Kanchanaburi where she brings her home-made red curry paste to market each day. People come from far away to buy it, or they will make sure to visit the market if passing through town, to bring it back home.
She dries her own chile peppers and pounds the ingredients by hand.
Our "Hand Brand" red curry paste is made using the same style, with the finest ingredients all manufactured in a modern facility with high standards of cleanliness and state-of-the-art packaging equipment to meet international standards. The best of all worlds.
Please see our offer above and give it a try.
---
See our detailed report on how to make Thai curry paste, and the health benefits.
---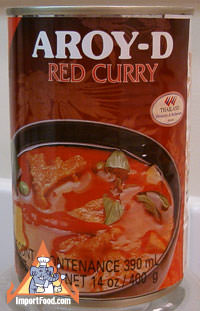 NEW: Ready-made Thai Red Curry Soup
We usually don't recommend the premade Thai curry soup found in some stores, but this premade Thai curry from Aroy-D is quite good if you don't have a lot of time.