Tamarind Concentrate, 16 oz jar
Tamarind Concentrate, 16 oz jar
Add to cart
16oz Jar - $6.89

Tamarind sauce is a critical ingredient in many Thai foods, including the famous Pad Thai. Tamarind sauce is commonly used in various northern Thai dishes as a souring agent. Tamarind is also used in the manufacturing of ketchups, sauces--Chinese, Worcestershire, Barbecue, etc. Tamarind is effective as a natural preservative and marinade.
We are shipping the very best from Aroy-D, in Cock brand.
Usually tamarind paste is mixed with water and strained, the resulting tamarind juice being what's used in Thai recipes.
Our tamarind conentrate is a concentrated form of tamarind juice (and very convenient to use because it removes the need for mixing & straining). With tamarind concentrate you can prepare most recipe that calls for tamarind, but there are some recipes that call for pure tamarind paste.
See a selection of recipes below that require tamarind, and detailed photographs of natural tamarind fruit and trees. Thailand grows a rich, full tasting fresh tamarind that is regarded around the world as the finest quality available.
Ingredients: tamarind (80%), water, sodium metabisulfate.
Product of Thailand.
Part of our Essential Thai Pantry Set

---
Use Our Tamarind Concentrate in the Following Authentic Thai Recipes
Thai Crispy Stir-Fried Noodle
Korat-Style Stir-Fried Noodles
Sour Bamboo Shoot with Shrimp
Grilled Meat Dipping Sauce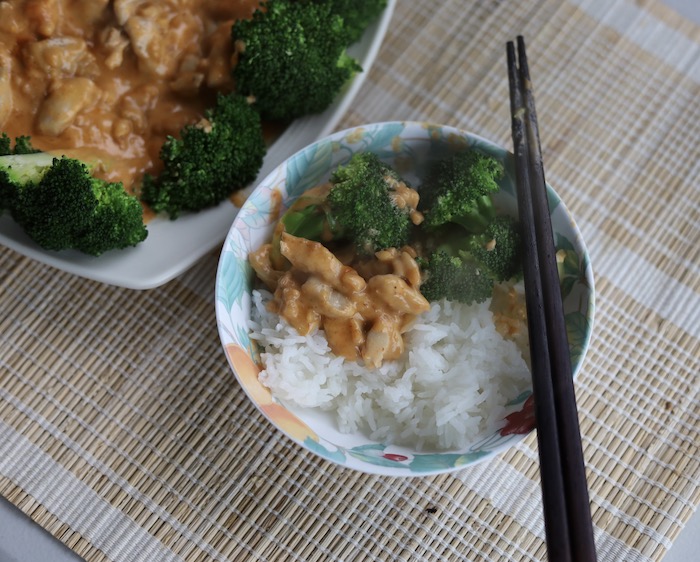 Thai Rama Chicken, 'Praram Long Song'
This dish dates to the time of King Rama 5, about 140 years ago. Originally it was made with beef, but nowadays pork and chicken are often used. Praram is a name for the God Rama, or King Rama, in The Ramkian. The Ramakian is the Thai version of an Indian Hundu epic written 2000 years ago. Long Song translates as 'take a shower'.
Praram Long Song is a popular dish in American Thai restaurants, but not often found in Thailand. Americans are fond of the peanut sauce, and in our recipe it's quite delicious. Sometimes called Swimming Rama, you can use broccoli, spinach, or other greens of your choice.
---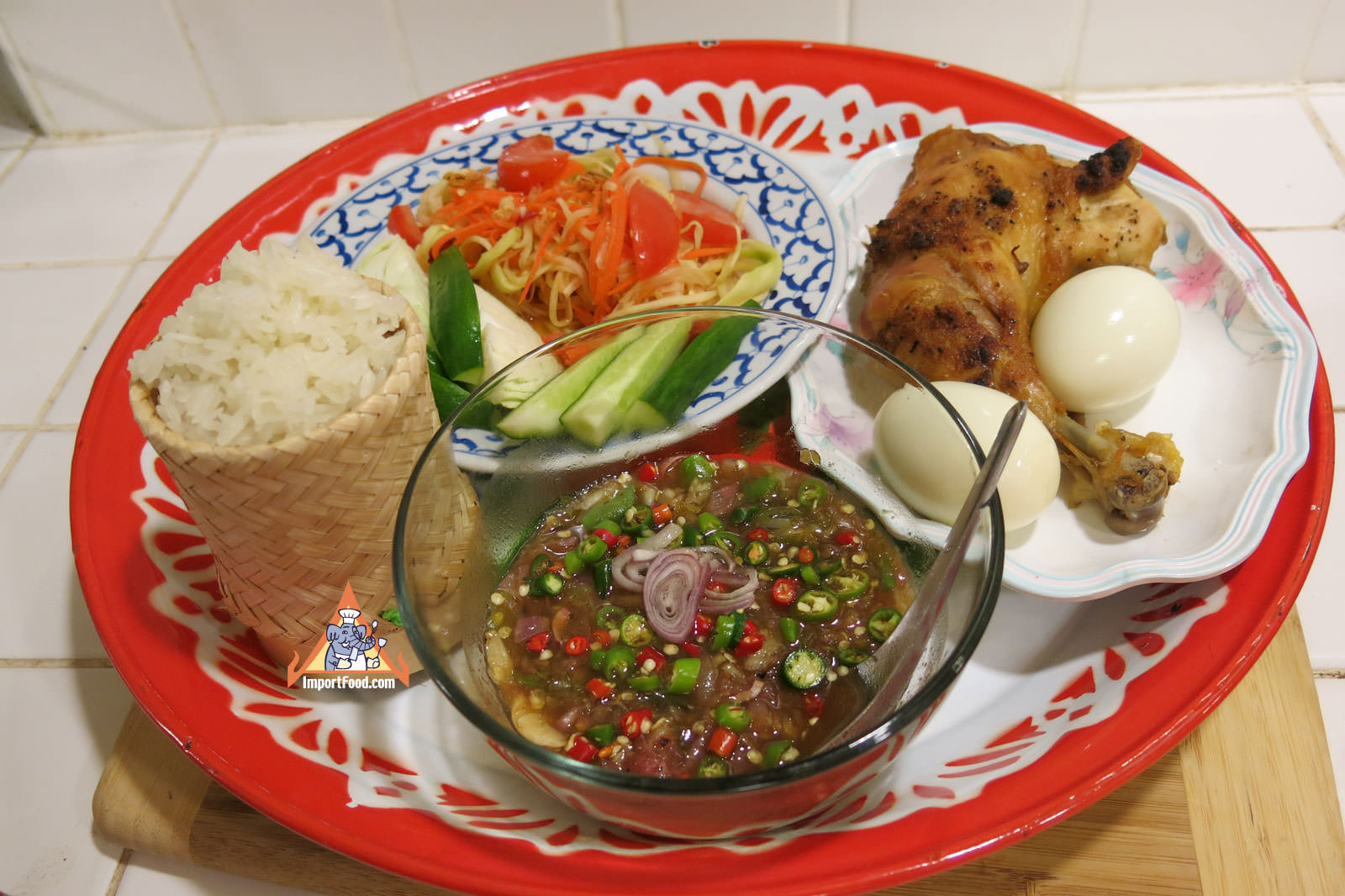 Thai Sweet & Sour Sauce, 'Nam Jim Priao Wan'
This is a simple, Thai-style, sweet and sour sauce. Note that it isn't pink! The sauce is spicy and has complex flavors.
Serve with any grilled meat. We enjoyed it here with chicken, som tum, sticky rice, and hard-boiled eggs.
---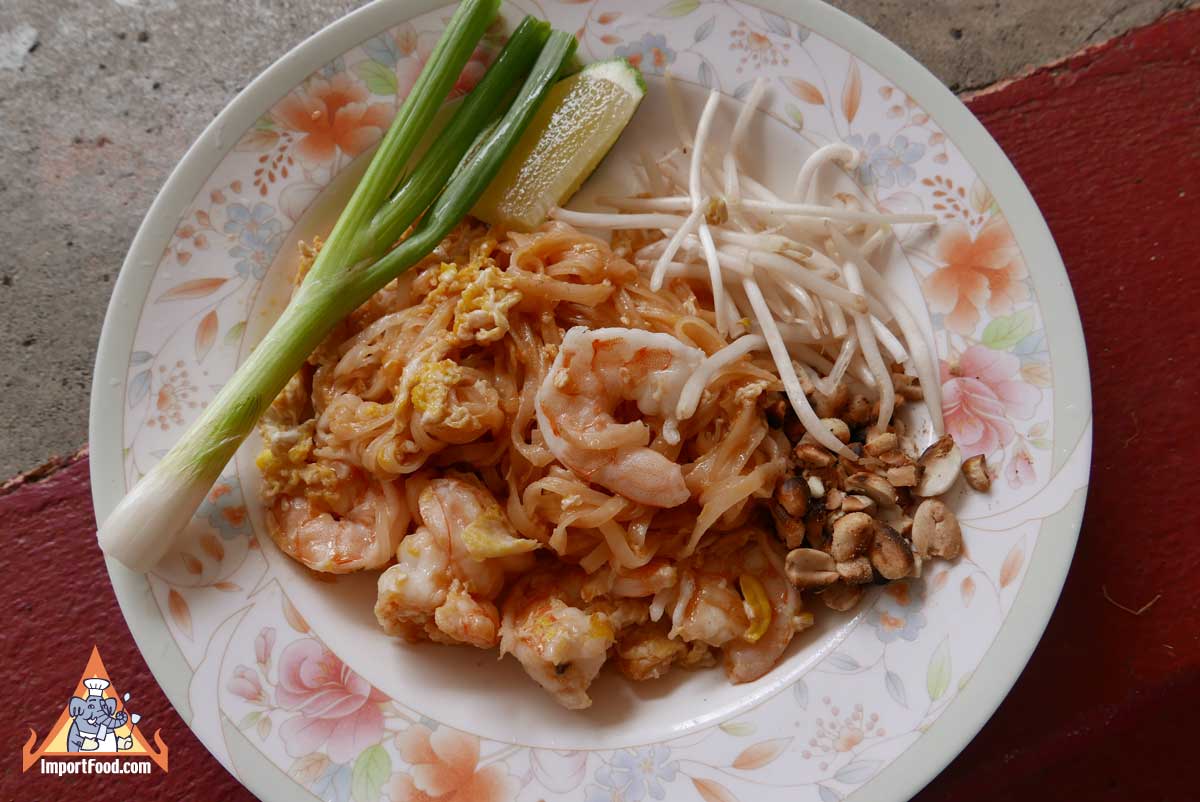 Pad Thai
Pad Thai is often called the signature dish of Thai cuisine. There are several regional variations, indeed it has been said that Thailand has not only a different curry for every day of the year, but also a different pad Thai for every cook in Thailand! This is our variation, and please see our street vendor photos & videos (below left) for others.
Also consider our Picnic Table Pad Thai Recipe
---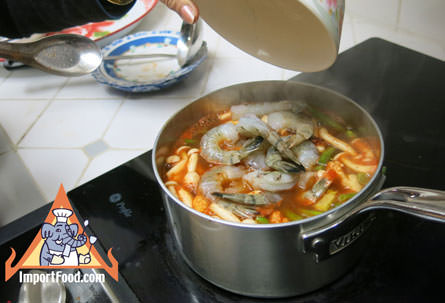 Thai Sweet & Sour Chicken Soup, 'Kaeng Som Gai'
This is a variant of kaeng som, which is a popular fish soup that is quite common in Thailand. Keang som is quite sour, and this dish has been given a degree of sweetness in keeping with making it from chicken.
---
---