Thai Pumpkin Custard, 'Sankaya Phak Tong'

Thai Pumpkin Custard, 'Sankaya Phak Tong'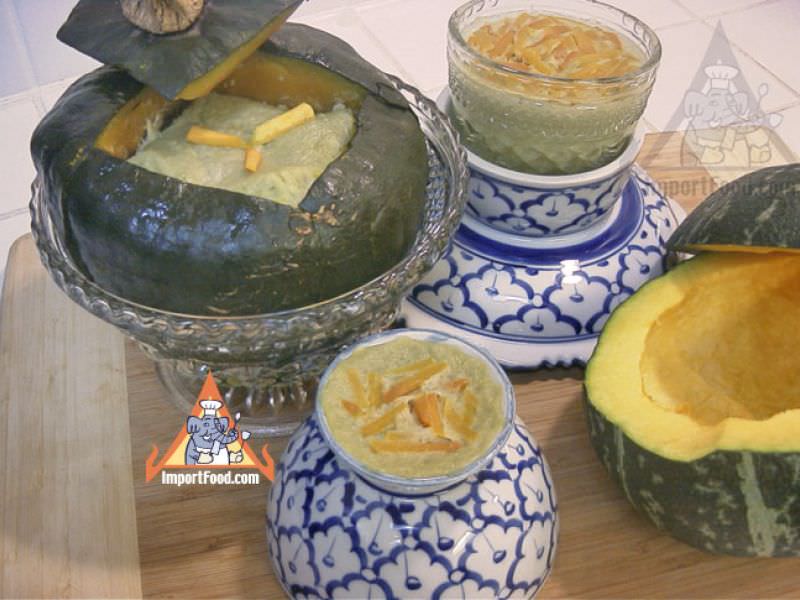 Sankaya is a sweet custard, and here we made it with pumpkin but you can follow the same recipe and cook it in a coconut, or simply steam it alone in a dish and serve. Another option is to serve sakaya overThai sticky rice, a delightfully sweet and authentic Thai dessert.
We love making this with Kabocha variety of squash which is readily available throughout the holiday winter months especially in the Pacific Northwest. It's also called Buttercup Squash, characterised by dark green skin and deep orange flesh.
Method for Thai Pumpkin Custard, 'Sankaya Phak Tong'
Clean the pumpkin as shown below, remove the top and scrape out the seed & membrane but leave the flesh intact. A Thai stainless steel soup spoon makes quick work of the cleaning because of it's shape and nice sharp sides. We also enjoy using our inexpensive but highly functional fruit carving knives.
In a mixing bowl, combine the eggs, coconut cream (see note below), sugar, pandan and a pinch of salt. Mix until the sugar is dissolved. We used an electric mixer and it took several minutes to get the sugar sufficiently dissolved.
To get coconut cream, remove the lid from a can of coconut milk and, without stirring the contents, remove the top cream and discard the thin liquid. Our Chaokoh brand is very high quality so it only takes about 1 1/2 cups of coconut milk to yield 1 1/4 cups coconut cream.
Pour the custard mixture into the prepared squash, filling until about 1/4 inche from the top. Feel free to use a 9" pie plate or small glass dishes if you'd rather not cook it in the pumpkin. If you cook it in outside the pumpkin, add slivers of pumpkin flesh (optional, as shown in picture below right) on top.
Steam the pumpkin in a stacked steamer or other steamer for 30-45 minutes, or until a knife inserted into the custard comes out clean. It will look set but still jiggle a bit when shaken. The custard firms up as it cools. Serve warm or cold
To prevent your pumpkin from cracking, put it in a bowl that fits nicely around it, and avoid steaming with excessive heat. After the custard is done steaming, leave it to cool before you remove it from the steamer.
Pumpkin custard sankaya phak tong
Pour custard into pumpkin then steam

Reviews