Thai Pumpkin Pudding, 'Khanom Phuk Tong'

Thai Pumpkin Pudding, 'Khanom Phuk Tong'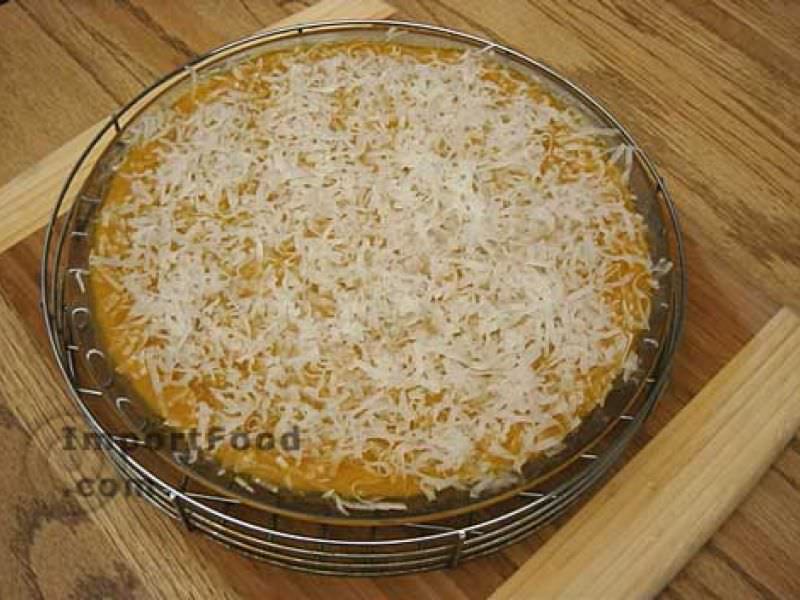 Many people may not realize that pumpkin, or any seasonal gourd, is an ingredient in many Thai recipes. This recipe works best with good old American halloween-style field pumpkin.
Method for Thai Pumpkin Pudding, 'Khanom Phuk Tong'
Start by mixing the coconut cream powder with 1 1/4 cups warm water, stir well and set aside. Cut the pumpkin into bite size pieces and steam until soft, we recommend the Chinese-style stacked steamer. Blend pumpkin with rice flour and tapioca starch, add sugar, half of the dried coconut, pandan essence (optional) and 1/4 tsp salt. Mix while adding the coconut cream a little at a time. Continue until sugar and coconut cream is dissolved. Pour mixture into a square pan 8 x 8 or use a pie pan as shown below. Sprinkle with the remaining dried coconut and 1/4 tsp salt. Put into the steamer and steam for 30 minutes. Remove, allow to cool, cut the pudding into pieces and enjoy!

Reviews