Lemongrass Chicken, 'Gai Sai Takrai'

Lemongrass Chicken, 'Gai Sai Takrai'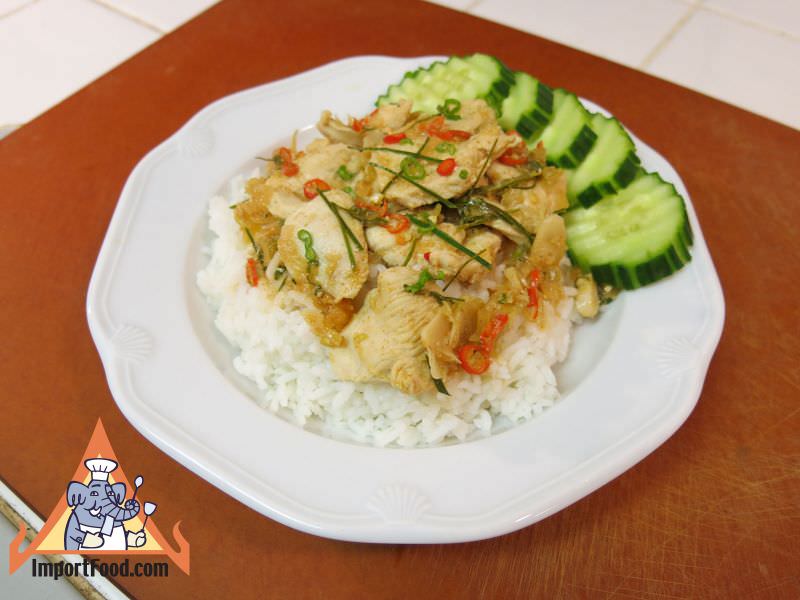 It doesn't matter where you are in the world, preparing this simple recipe brings the full flavor of Thailand to your kitchen. Just make sure you have nice fresh lemongrass, Thai chile peppers, and kaffir lime leaves. Using extra-fine chile powder really helps as well.
The recipe has a poetic name, as the three words of the name rhyme. Gai = chicken, Sai = added, Takrai = lemongrass.
Method for Lemongrass Chicken, 'Gai Sai Takrai'
Mix the lime juice and fish sauce, and marinade the chicken for about an hour.
Pound the lemongrass with the back of a cleaver or meat tenderizer, then slice it very thinly.
Heat a little oil in a wok or skillet (we used a skillet, as shown in pictures at right) to medium high heat, add the shallots, onions, garlic, extra-fine chile powder, fresh lemongrass lemongrass, and stir-fry until aromatic.
Add the chicken and marinade, and fry until it starts to change color. Add the remaining ingredients and stir fry until heated through and the chicken is fully cooked.
Serve with steamed Thai jasmine rice.
This dish can also be made with shrimp.
Enjoy with steamed jasmine rice
Start cooking in a skillet or wok
Add more ingredients and cook
Season with kaffir lime leaves and chiles

Reviews