Thai Pepper Steak, 'Neua Pad Prik'

Thai Pepper Steak, 'Neua Pad Prik'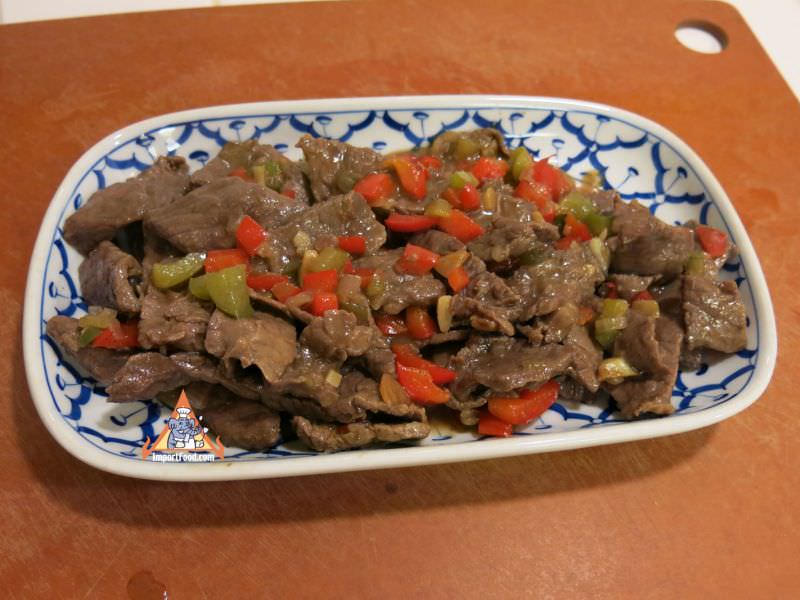 This is a Thai version of "pepper steak", prepared using Thai ingredients. Thai pepper powder and sesame oil combine with sweet peppers to create this tender steak stir-fry. We used top round steak which worked great.
Method for Thai Pepper Steak, 'Neua Pad Prik'
Cut the steak diagonally across the grain into thin strips. Mix the marinade ingredients and combine with the steak, and leave for about an hour.
In a wok or skillet over low/medium heat, combine the sesame oil with two tablespoons of vegetable oil and then stir fry the garlic and pepper powder until the whole is aromatic and the garlic turns slightly crisp. Add the shallots, bell peppers and beef, and stir fry for 2-3 minutes (until the beef begins to show signs of being cooked). Add the remaining ingredients, and increase the heat to medium/high and stir fry until the beef is cooked to your taste.
Serve over steamed white Thai jasmine rice, and if desired garnish with a fried egg.

Reviews