Firm Rice Seafood Soup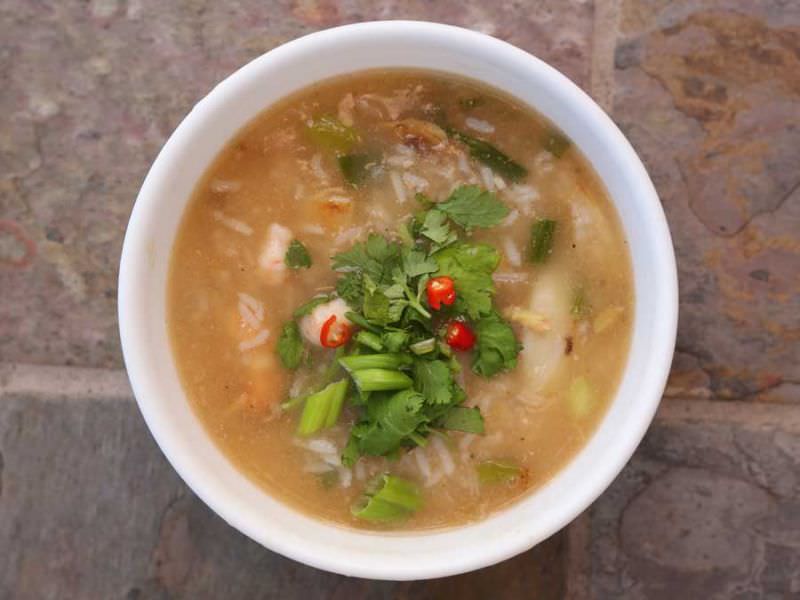 This is a masterpiece seafood soup. You might be surprised it came from your kitchen, with such a nice blend of elegant flavors and texture. Here we demonstrate all the tricks to make it just right. The slightly firm rice, rather than the typical mushy congee, makes it distinctive. The trick is to fry the rice when it's still dry, as we show here.
Method for Firm Rice Seafood Soup
Start by preparing the seafood: remove heads from prawns if necessary, and cut each prawn into smaller pieces. Slice squid into bite-size pieces. Immerse clams in boiling water until the shells open, then remove from water and set aside.
Mince ginger, slice shallots, and slice fresh galangal to make 5 or 6 pieces, each about 1/4" thick and the size of a quarter.
Rinse the rice in cold water then shake to dry as much as possible. Put the rice into a pan (uncooked) along with a sliced green onion. Fry it quickly over medium heat without burning the rice. Using a spoon just move the rice about the pan to 'dry cook' it. This makes the rice firm so it won't become mushy as it cooks in the broth.
After a few minutes, add about 2 bowls full of water (or a bit less) to the pan. Add fresh galangal slices. Bring to a boil, reduce heat slightly, and let simmer. The cooking time is about 15 minutes from the time it boils, so set a timer from this point.
In a separate frying pan, over medium/low heat, add the squid and let it get hot for 30 seconds or so. This helps the squid remove steam. Add vegetable oil, ginger, shallot, prawns and clams. Raise heat to medium and cook quickly by stir-frying. Add crushed black peppercorn, fish sauce, a touch of sugar (optional) and a dash of salt. Mix well, and set aside.
When the rice is about two minutes from being done, add your seafood into the rice, followed by the msg (MSG is optional and we chose not to add it, but if you want to make it extra tasty and don't mind MSG, this is the time to add it.
Remove from heat, and serve in a bowl with sliced fresh coriander and green onion, and a bit of fresh red Thai chilli pepper.
Enjoy this masterpiece seafood soup. This makes two bowls of soup.

Reviews