Thai Stir Fry Over Crispy Noodles

Thai Stir Fry Over Crispy Noodles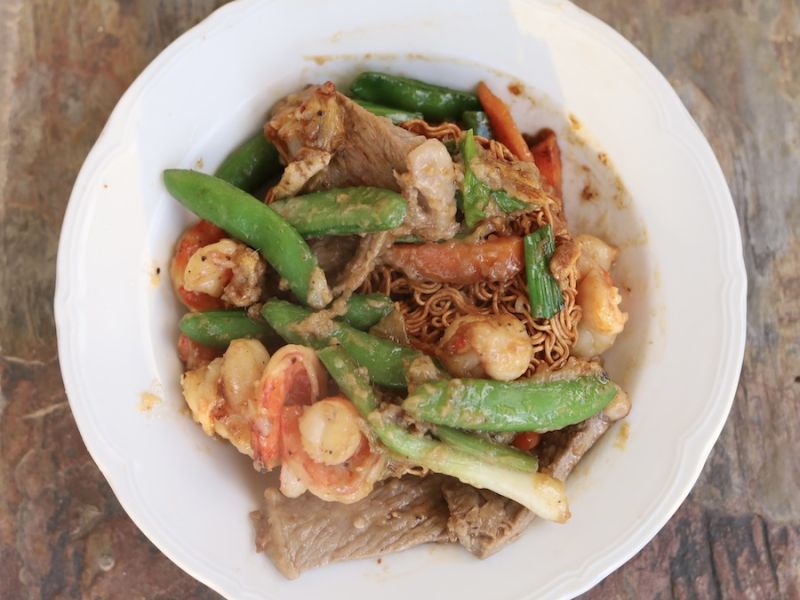 Here's a delicious Thai stir fry served two ways:
1/ over crispy noodles
2/ with boiled noodles

These particular noodles from FF create delicious stir-fry both crispy and boiled.
Method for Thai Stir Fry Over Crispy Noodles
Crispy Version: Start by heating vegetable oil over medium heat, drop your noodles in for 30 seconds, then remove and set aside.
Boil cut vegetables (we used a carrot and snow peas as shown) for about one minute, then remove and set aside.
Thinly slice beef (we used New York strips) and clean shrimps. Slice one spring onion, crush garlic in a mortar and pestle (you can use ginger instead if you prefer).
Put some vegetable oil in a frying pan then add garlic, spring onion, then add beef, shrimp and cook. Add vegetables. Add fish sauce, oyster sauce, sugar, and a touch of msg (optional). On the side of the pan, add a bit of Thai Tae (optional) then stir in a touch of oil to get it mixed, then incorporate this into the stir fry.
After the meat is cooked, add a mixture of 1 teaspoon tapioca starch with 1/2 cup water (mixed well) to the stir fry. Keep it at high heat for a moment to let the starch activate, mix, then top with sliced greens from a spring onion, remove from heat and pour this over your crispy noodles. Enjoy the rich flavors and crispy texture of your noodles. This is really special and we know you'll like it.
Boiled Noodle Version: Do everything above except boil your noodles for two minutes rather than frying in oil. Drain noodles then set aside. After the stir-fry is complete, mix the cooked noodles into the pan, then serve and enjoy.
cropped-8Enjoy Crispy Version

Reviews