Thai Chicken and Egg Soup, 'Jabchai Yaowalak'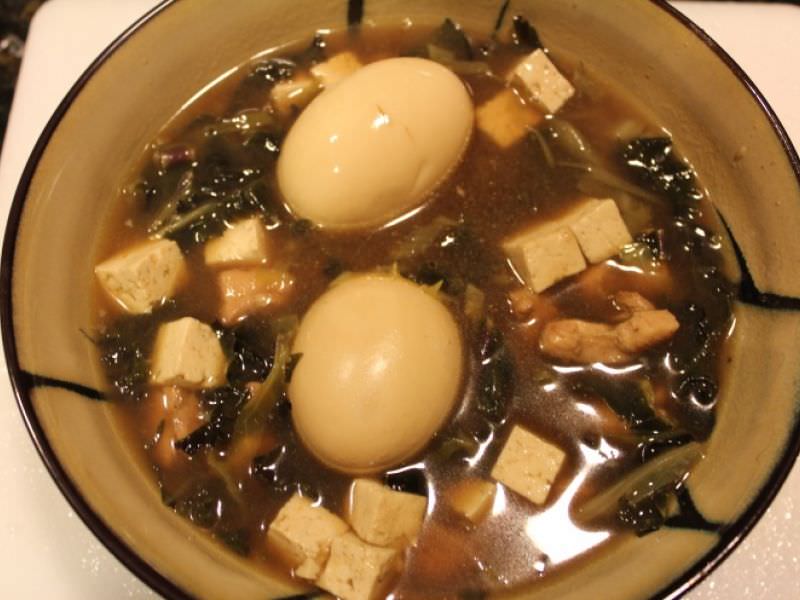 We love this recipe which has been a family staple for years, it's often cooked for hours then left on the stove to be eaten over a 24 hour period with freshly-cooked jasmine rice. This soup has a depth of flavor and would be considered Thai/Chinese in style.
Ingredients
For 4 Person(s)
Ingredients
6

Chicken Legs (drumsticks)

2

Cups

Bok Choy, cut into short sections

2

Cups

Cabbage, Cut into 1 inch Cubes

2

Cups

Sliced Kale, Stems Crushed

1

Cup

Firm Tofu cut into 1 inch cubes

5

Garlic Cloves

1/2

Teaspoon

Thai Pepper Powder

1/2

Teaspoon

Salt

1

Teaspoon Five Spice Powder

3

Tablespoon Light Soy Sauce

2

Tablespoon Dark Soy Sauce

2

Tablespoon Palm Sugar

4

Tablespoon

Cooking Oil

8

Cups

Water

4

Hard-boiled Eggs, whole not chopped
Buy ingredients for this Recipe
Method for Thai Chicken and Egg Soup, 'Jabchai Yaowalak'
Place garlic, coriander seeds, pepper powder, salt and 5 spice powder in mortar and pound until thoroughly ground and mixed. Add mixture to chicken legs in a large bowl, mix together (rubbing the spices all over chicken legs). Heat oil in large pot, add chicken and spice mixture, and brown on all sides. Add remaining ingredients and bring to a boil. The hardboiled eggs should be left whole. The spices and cooking process will turn them into a nice tan/light brown color, and they can be cut up with a spoon by the person served the soup. Reduce heat to simmer for one hour. Eat alone or serve over steamed jasmine rice.

Reviews