Rice Vermicelli Garlic Lime Pork, 'Sen Mee Pad Kratiem Moo Manao'

Rice Vermicelli Garlic Lime Pork, 'Sen Mee Pad Kratiem Moo Manao'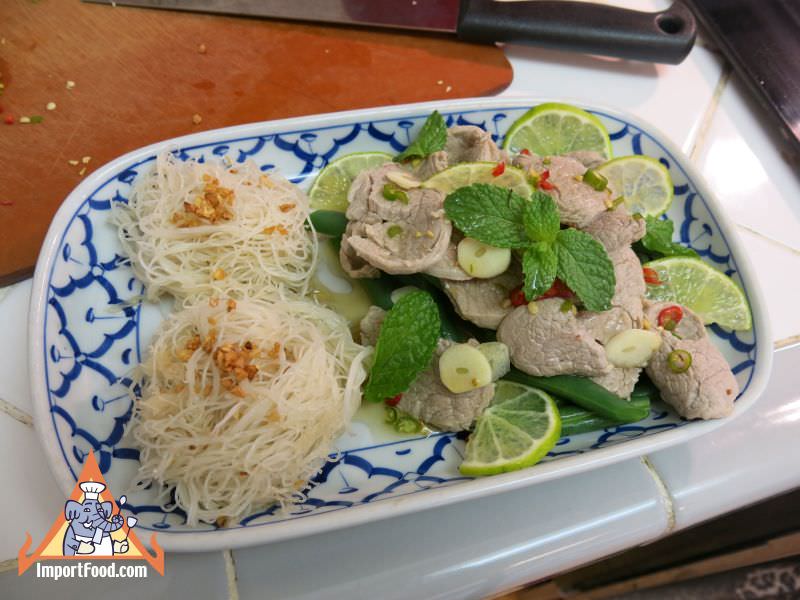 This authentic Thai recipe has a long name: "Sen Mee" = rice vermicelli; "Pad Kratiem" = fried garlic; "Moo" = pork, "Manao" = lime.
We like to load the pork with lots of chopped fresh Thai chiles, and serve it with plenty of sen mee.
Method for Rice Vermicelli Garlic Lime Pork, 'Sen Mee Pad Kratiem Moo Manao'
Soak the rice vermicelli in lukewarm water for 10 minutes. Drain and set aside.
In a small bowl, mix lime juice, fish sauce, sugar, sliced garlic, and at least 1 teaspoon finely-chopped fresh Thai chiles (more to add spice). Set aside.
Heat vegetable oil in wok over low/medium heat. Add finely-chopped garlic and fry until golden brown and aromatic. Quickly remove wok from heat, remove the garlic with a slotted spoon or strainer, and set garlic aside. Keep the oil in your wok.
Return wok to burner, over low/medium heat, add the soaked rice vermicelli, thin soy sauce, and cook for a few minutes until noodles are done. Keep stirring the noodles, be careful not to burn them. Transfer your noodles to a serving plate (see pictures at right), topping with fried garlic.
Blanche the green beans in boiling water for 1.5 minutes, set aside. Blanche the sliced pork in boiling water for 2-3 minutes, set aside
Put green beans on the plate, and top with cooked pork. Spoon the sauce mixture over the pork, and garnish with fresh mint leaves and sliced lime. Enjoy!

Reviews