Lemongrass Chicken with Turmeric Rice

Lemongrass Chicken with Turmeric Rice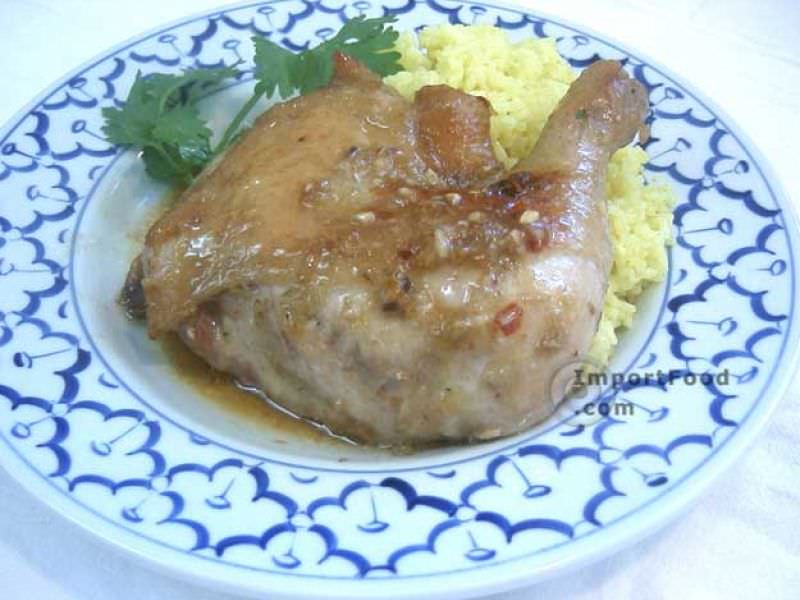 This recipe is more of a Vietnamese dish than Thai, but the yellow rice is becoming more popular in Thailand and we really like the overall flavor. Turmeric makes the jasmine rice take on a beautiful yellow color, and the flavors go well together.
Method for Lemongrass Chicken with Turmeric Rice
Roasted Chicken
Bruise the lemongrass by whacking with the edge of a soup can (this releases flavor). Clean the lemongrass stalks by removing the outer layers, then remove about 1/2" from the tip, and cut up 4" from there. Discard the rest. If the lemongrass is thin you can use three of these 4" pieces, otherwis use two pieces. Slice the lemongrass into thin pieces (see picture). Whisk 1/4 cup oil, 3 tablespoons fish sauce, 1 tablespoon palm sugar, and next 6 ingredients in large bowl. Add chicken; turn to coat. Marinate at room temperature 1 hour.
Heat remaining 1 tablespoon oil in 12-inch overproof skillet over medium-high heat. Add chicken, skin side down, to skillet (reserve marinade in bowl). Cook 4 minutes. Turn chicken, add reserved marinade to skillet, and transfer to oven. Roast until thermometer inserted into thickest part of thigh registers 175F, about 30 minutes. Transfer chicken to plate.
Add 1/2 cup water, lime juice, 2 tablespoons fish sauce, and 1 tablespoon palm sugar to skillet. Bring to boil. Remove from heat, spoon fat from surface, and strain pan juices into small pitcher. Serve chicken with pan juices.
Yellow Rice
Heat oil in heavy medium saucepan over medium-high heat. Add shallot and garlic; saute until just beginning to brown, about 2 minutes. Add rice, broth, salt, and turmeric. Bring rice to boil. Reduce heat to medium-low, cover, and simmer until rice is tender and liquid is absorbed, about 18 minutes.
Lemongrass chicken with turmeric rice

Reviews