Thai Massaman Beef - Gaeng Massaman

Thai Massaman Beef - Gaeng Massaman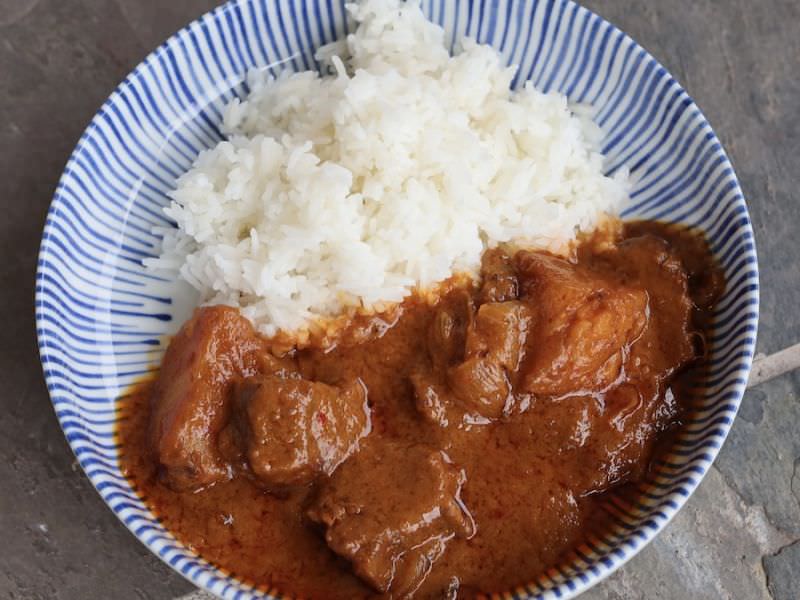 This is a new version of Massaman beef that takes advantage of the premium quality massaman curry paste now available from:

Aroy-D and Mae Ploy massaman curry paste
Both brands create delicious massaman using this recipe.
Massaman cooked slowly with tender beef is one of our personal favorites, and many people who call us to order mention that they love massaman beef.
This massaman is simple, and loaded with flavor.
Method for Thai Massaman Beef - Gaeng Massaman
Peel potatoes and cut into large chunks as shown.
Heat vegetable oil in a wok or skillet then add massaman curry paste and fry until fragrant, Cut your beef into large chunks (we used rib roast, and also suggest tri tip) and add it along with 3 cups of coconut milk that you add slowly to fully incorporate.
Add palm sugar, fish sauce, tamarind paste and stir well.
Add onion, potatoes, and peanuts, then simmer over low/medium heat until beef is tender. This takes half an hour or a bit longer.
Some recipes suggests adding 2 tablespoons of Cardamom pods along with the other ingredients but it's not necessary.
You can also adjust tamarind quantity to increase or decrease the level of sour flavor, but we find 1 level tablespoon (not more) is just right.
Serve with jasmine rice. Enjoy!

Reviews