Baked Rice in Earthenware Pot, 'Khao Op Mor Din'

Baked Rice in Earthenware Pot, 'Khao Op Mor Din'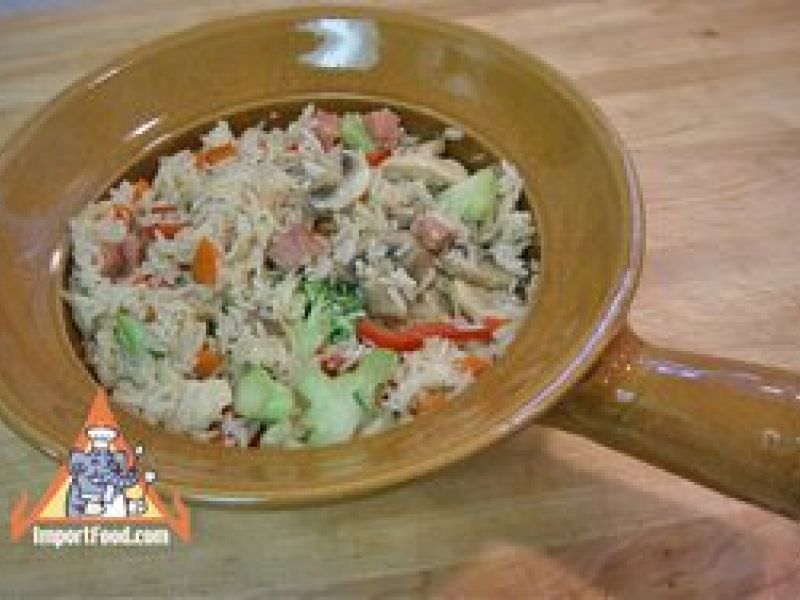 This is a tasty baked rice that you might find in a fancy Thai-Chinese restaurant. We like how the chicken and ham blend with the rest of the flavors, but you can omit the meat or use less. Use the vegetables of your choice. To make this dish we used the authentic Thai clay pot as shown, and that really does enhance the flavor because the lid allows slight airflow. We heated the clay pot in the oven before adding the rice also.
Method for Baked Rice in Earthenware Pot, 'Khao Op Mor Din'
Pre-heat oven to 375 and heat the clay pot. On the stovetop, in a wok or skillet heat vegetable oil over medium-high then add chicken and cook, then add ham, garlic, carrot, bell pepper, ginger, mushroom, broccoli. Stir. Add fish sauce, oyster sauce, sugar, mirin, pepper powder.
Fry for just a minute or two, until the vegetables begin to soften then add rice. Turn off heat, and combine all ingredients well. Transfer this to the warm clay pot, put the lid on and bake it for 20 minutes. Serve and enjoy!
Baked rice in earthenware pot khao op mor din
Chile paste in coconut milk

Reviews