Tapioca Pearl and Cantaloupe with Fragrant Coconut Cream, Sa Koo Cantaloupe

Tapioca Pearl and Cantaloupe with Fragrant Coconut Cream, Sa Koo Cantaloupe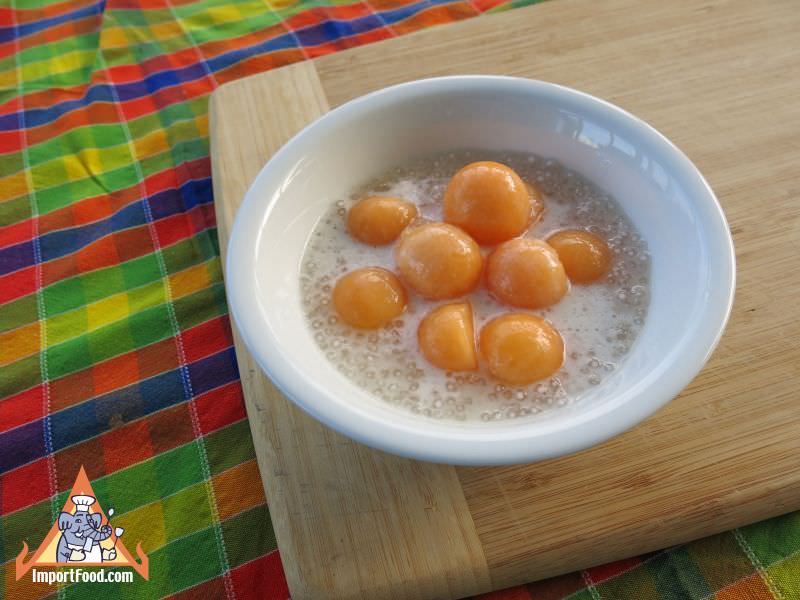 Smoke has been used by to flavor food by people around the world. Here's the Thai way to use smoke, to scent coconut milk and simple syrup that's served over fresh fruit and tapioca pearl. The candle is made with fragrant spices and bees wax, rolled into a ribbon, hand-wrapped around the thick cotton wick.
Anyone not familiar with fragrant desserts made using this herbal smoke candle, is in for a wonderful surprise. We love the unique aroma, aromatic coconut milk and fresh fruit is like nothing you've ever tasted.
So healthy, earthy and fresh, you won't want to stop eating.
You might also be interested in our Recipe for Thai Cookies which uses the same fragrant candle.
Method for Tapioca Pearl and Cantaloupe with Fragrant Coconut Cream, Sa Koo Cantaloupe
Cut your cantaloupe in half, remove the seeds, and cut into pieces (we used a melon baller, which is optional). Set aside.
In a small pot, add 1/2 cup water and 3/4 cups sugar, stir over medium heat until sugar dissolves, bring to a boil. Remove from heat. Set aside, let it cool.
In another pot, heat coconut milk and bring to a high simmer. Add salt, stir, remove from heat. Set aside, let it cool.
In another pot, bring 3 cups water to a boil, add tapioca pearl. Keep stirring, and after about 3 minutes it will thicken. The tapioca swell and start to get clear. Turn the heat down. Over low heat, stir for 10 minutes. Strain your tapioca and rinse with cold water. Put your rinsed tapioca in a separate bowl.
Place a fragrant candle in a small dish, and put it into the pot of coconut milk. To keep the candle steady, you can put a toothpick through it (see picture). Light the candle and let it burn hot, then in a quick instant blow out the candle and place the lid on the pot. The candle will produce fragrant smoke, let this sit for 2-2.5 hours without removing the lid.
Repeat step above for the sugar syrup (smoked the syrup in the same way as you did the coconut milk). Note that every time you use the candle, cut off any large pieces of burned wick, if it's a used candle. Just keep your candle wick trimmed, for best results.
Add smoked simple syrup into the tapioca pearl, mix to combine. Put about 1/2 cup tapioca pearl mixture into a bowl, add cataloupe pieces, cover with scented coconut milk and mix it up a bit. Finally, drizzle another bit of coconut milk over everything and serve. Enjoy!
Add tapioca pearl to water
Don't overcook the tapioca
Fragrant smoke the coconut milk

Reviews