Rice with Salty Chili Sauce & Seafood, 'Khao Kruk Prik Klua'

Rice with Salty Chili Sauce & Seafood, 'Khao Kruk Prik Klua'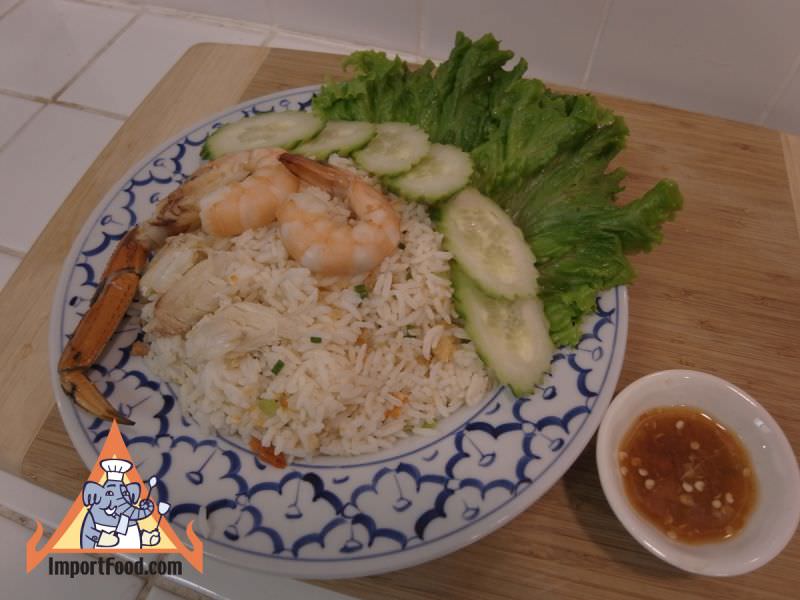 This is a regional Thai delight that is proudly served in Chantaburi province, where the Gulf of Thailand meets the Cambodian border. Many people familiar with Thailand would think about Chantaburi as the province with great fruit--notably durian, rambutan, and mangosteen.
This famous dish from Chantaburi is simple, and unique. Simple because it uses fresh steamed jasmine rice, and unique because the rice is tossed with particular salty ingredients then topped with seafood and served with spicy sauce. A wonderful combination that we know you'll enjoy. We've never seen this offered in a restaurant outside of Thailand.
Method for Rice with Salty Chili Sauce & Seafood, 'Khao Kruk Prik Klua'
First: prepare the chile sauce. In a mortar and pestle pound the fresh chiles until fine, and transfer to a small bowl. Add fish sauce, lime juice and sugar to chilis. Stir until dissolved, set aside.
Make sure your dried shrimp and preserved cabbage are finely chopped, as shown in photo. In a large mixing bowl add cooked jasmine rice, dried shrimp, green onion, Thai fried garlic and preserved cabbage. Mix these ingredients well. Pour in half of the chile sauce, and mix again.
Transfer to serving dish, and top with cooked seafood. We used cooked crab and prawns. Serve with green lettuce and cucumber on the side. The remaining chile sauce should be served as a dipping sauce on the side. Enjoy!
Rice with salty chili sauce & seafood khao kruk prik klua
Finely chop your dried shrimp
Mix well then add chile sauce

Reviews