Chiang Mai Curry Noodles, 'Khao Soi'

Chiang Mai Curry Noodles, 'Khao Soi'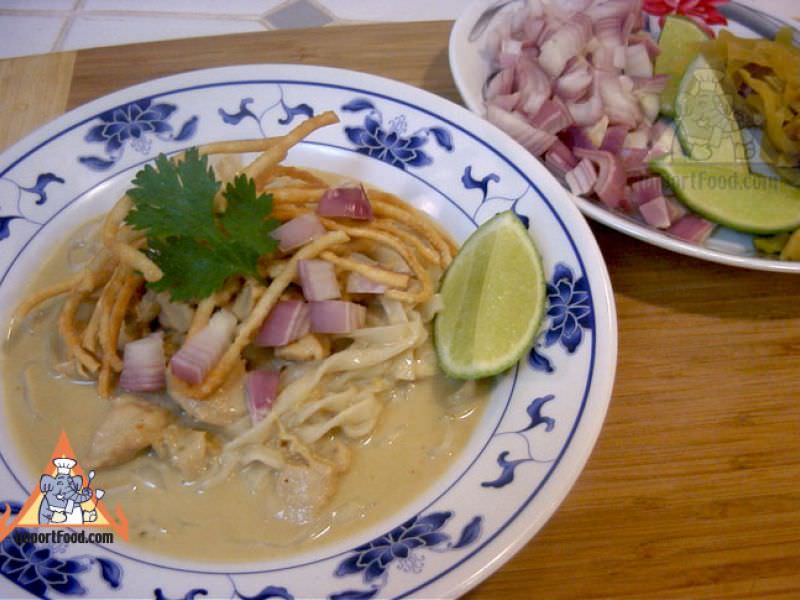 This is a noodle dish, prepared in a rich creamy curry sauce, that is traditional in Northern Thailand. A popular lunchtime meal in northern Thailand. The flavor is not only distinctly "Thai" but it also goes very well with the American palate. We also offer a ready-made Kao Soi paste for quick preparation.
Try to use fresh egg noodles. We found flat, fresh egg noodles at our local Safeway supermarket in the refrigerated section. Khao Soi is typically a rich gravy poured over soft noodles, then topped with the same noodles but crispy.
Method for Chiang Mai Curry Noodles, 'Khao Soi'
Soak the whole dried chiles in cold water for 10 minutes, then drain on colander using a spoon to press the chiles against the side to squeeze out the excess water. Use aluminum foil and wrap the whole chiles, shallot, sliced ginger, corriander seed and turmeric powder into a little package. Place this directly on the stove burner for about 2 minutes on each side or until fragrant. Then empty this into a mortar & pestle and pound it into a paste.
Heat 1 cup of coconut milk, add the chile paste, and cook until aromatic (about 2 minutes). Add chicken, salt, and soy sauces. Stir fry until chicken is no longer pink, then add the rest of the coconut milk and bring to a boil. Simmer for 5 minutes, then add lime juice. Stir well and remove from heat.
Fry 5 ounces of noodles in hot oil until crisp. Remove and drain well.
Boil the rest of the noodles, cooking as directed on the package. Place a serving of boiled noodles on a plate, and pour the gravy mixture over it. Top with crispy fried noodles. Accompany with a small bowl of chopped shallots, pickled mustard green, and lime. (Hint: add a touch of Thai chile oil for great flavor and aroma). Enjoy!

Reviews