Thai Green Curry Chicken - Mae Pranom

Thai Green Curry Chicken - Mae Pranom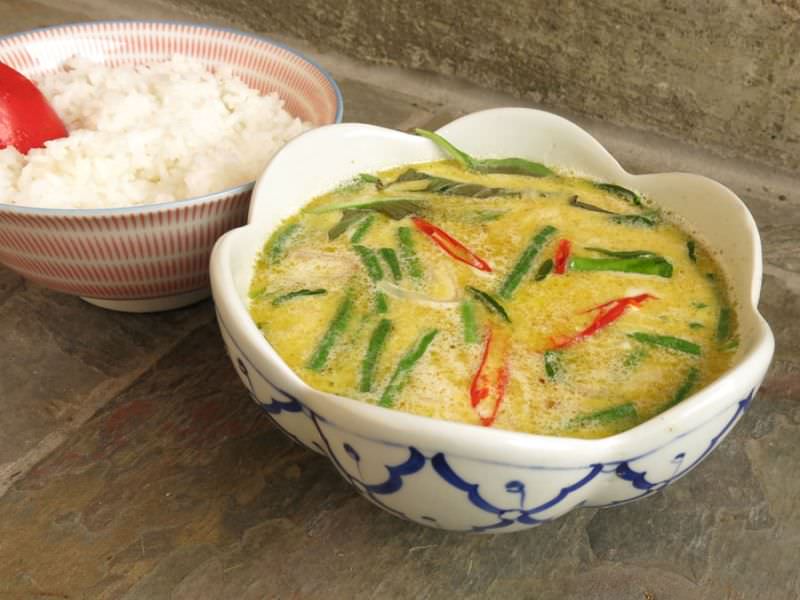 We made this using our new premium quality, all-natural green curry paste from Mae Pranom. It turned out perfect, perhaps better than you might expect you could do in your own kitchen. Using the best coconut milk, high quality organic chicken, our elegant palm sugar this is better than what we've enjoyed in retaurants. It's all in the ingredients,
Method for Thai Green Curry Chicken - Mae Pranom
Start by frying fresh shallots in a tablespoon of vegetable oil, then add the green curry paste and stir fry until fragrant. Gradually add the coconut milk over medium heat, bring to a boil while mixing together, add water, mix, then let it gently boil for 2-3 minutes which brings out the oil in the coconut milk.
Add sliced chicken and simmer until the chicken is cooked through, then add palm sugar and fish sauce, then add torn fresh lime leaves. Add 2-3 sliced red Thai chilli peppers. Add green beans and cook for 2-3 minutes until the beans are softened, then add fresh Thai basil (or any local basil is fine).
Serve with Thai Jasmine Rice. Shown here we served it in our handpainted Thai lotus bowl.
We really enjoyed this, the best Thai green curry we've ever made.

Reviews