Japanese Udon Soup w/Panko Shrimp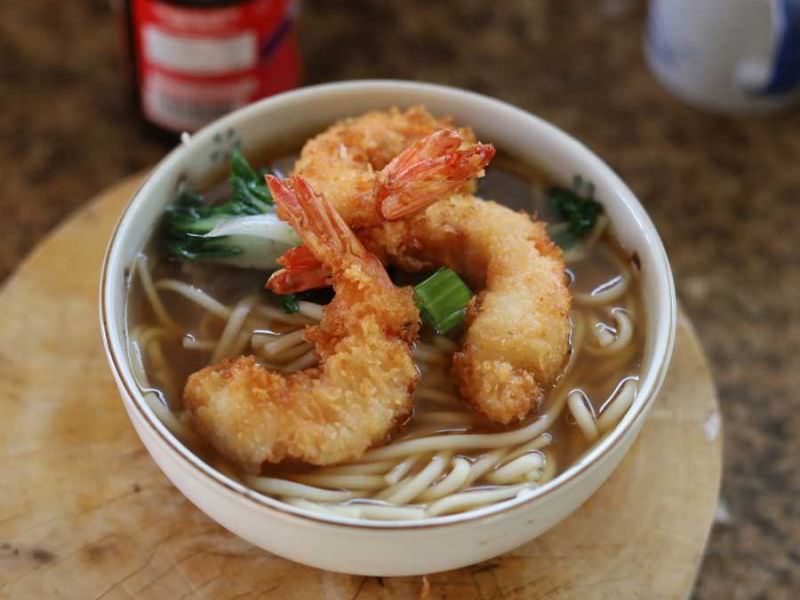 Hontsuyu sauce and udon noodles create this disctinctive soup with panko shrimp -- a simple Japanese recipe we're pleased to share here.
Method for Japanese Udon Soup w/Panko Shrimp
Start by boiling udon noodles in water for 5 minutes, drain and set aside.
Put 2 cups water in a pot and bring to boil. We used about 1/2 cup chicken stock for added flavor, but that's not necessary.
Add 3-4 tablespoons of hontsuyu soup base. Add cooked noodle to the soup, stir, transfer to a bowl.
We separately boiled a bit of bok choy for 1-2 minutes, then added that to the soup. Broccoli works well.
Stir in 1/2 teaspoon prepared ginger.
Top the soup with three panko shrimp, and a bit of spring onion.
Panko Shrimp
1/ Dredge in flour then dip in egg white.
2/ Roll the shrimp in panko then fry in about 2" of oil on medium heat.
3/ This makes a perfect panko shrimp.
Enjoy!

Reviews