Korat-Style Stir-Fried Noodles, 'Pad Korat'

Korat-Style Stir-Fried Noodles, 'Pad Korat'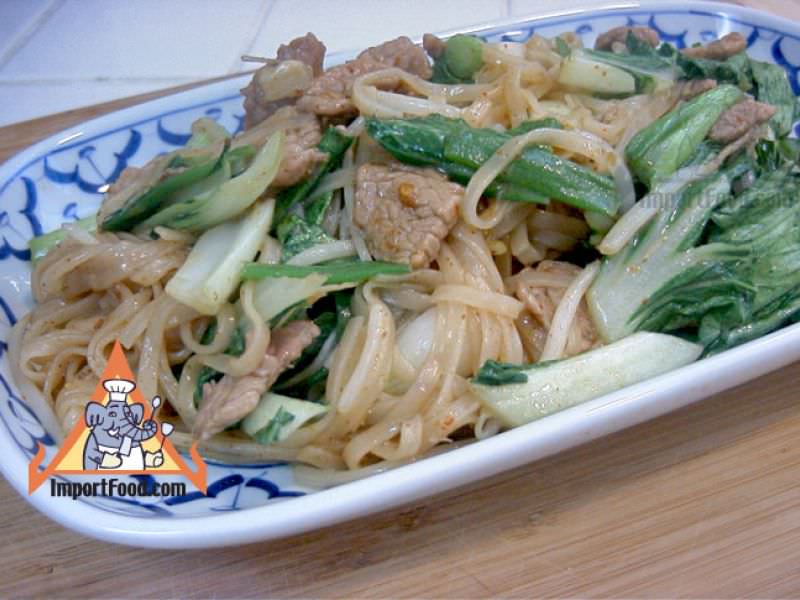 The result of this recipe is a hot, spicy, thoroughly addictive succulent noodle dish. It might seem like you're adding too much ground chile peppers, but it's meant to be hot, and the chile gives it the distinctive color. This version is both sweet and spicy. To add some depth, you can add a tablespoon of tamarind concentrate to the cup of water. Use any greens you have on hand, we liked the way our version turn out, with bean sprouts and bok choy.
Method for Korat-Style Stir-Fried Noodles, 'Pad Korat'
Soak the rice stick noodle in warm water for about 15 minutes. While the noodles are soaking, heat vegetable oil in a wok over medium-high heat. Add garlic, and saute until aromatic. Add sugar. Keep stirring until dissolved. Add ground chile, fish sauce, sweet soy sauce, and water. Bring to a high simmer, then add meat and cook until done.
Drain the noodles and put them into the wok. Stir-fry until the noodles absorb most of the sauce. Add the vegetables and stir-fry another few minutes or until your vegetables are cooked but still a bit crunchy. Enjoy!
Korat style stir fried noodles pad korat
Adding rice stick noodles

Reviews