Thai Spring Roll Wrappers, 22 cm
Thai Spring Roll Wrappers, 22 cm
Add to cart
$4.89-Spring roll wrappers, 8.75 inch, 12 oz

High quality spring roll wrappers made from a mixture of tapioca flour, water, and salt.
These are rolled out by machine to paper thinness and then dried on bamboo mats in the sun. We offer the most convenient size: a nice 8.75" in diameter which is easy to work with. Our premium wrappers are not too thin and not too thick.
Used for wrapping Vietnamese spring rolls of pork and seafood, with crispy fresh lettuce and herbs and finally dipped in a special sweet chile sauce for spring rolls. See our useful recipe and photos below.
Useful Hints: wrappers must be softened before use. Simply immerse them, one or two sheet at a time, in warm water. Soak them until they are soft, approximately 1 minute. Handle them carefully as the sheets are brittle. Drain them on a linen towel before rolling.
For a different dipping sauce, we like: a mixture of 1/2 cup Hoisin Sauce, juice of one lime, two crushed Thai chile peppers and several cloves of crushed garlic (use a mortar and pestle to crush the chiles and garlic). See the recipe below, also try this recipe for Fresh Fish Spring Rolls.
Each package has approx 40 wraps. All natural, and dry so they last forever in your pantry, will not go bad. Ingredients: tapioca flour, water, rice flour, salt.
Product of Vietnam.
---
See these recipes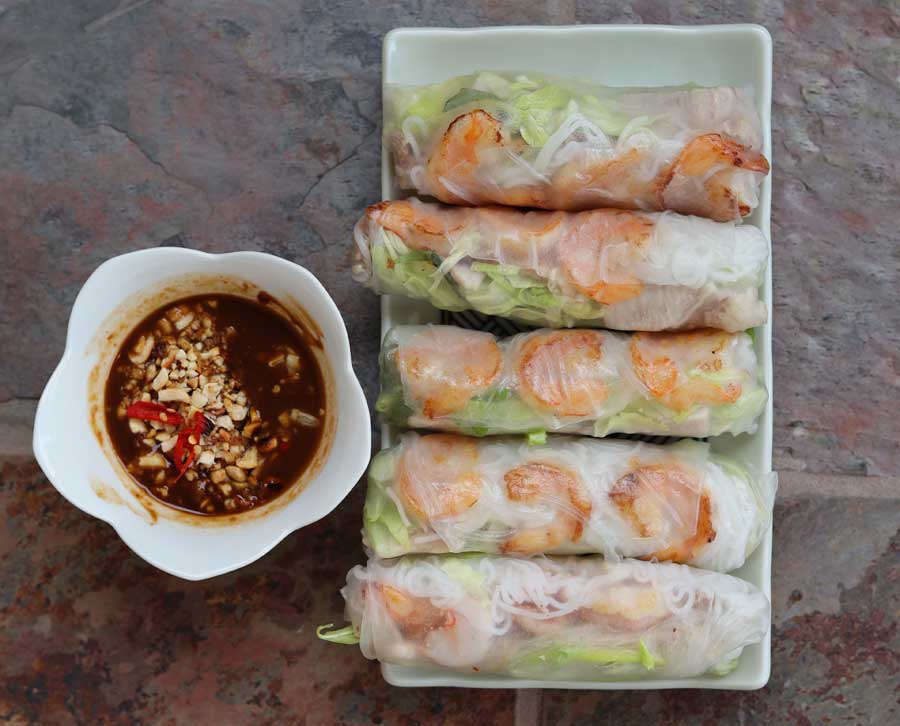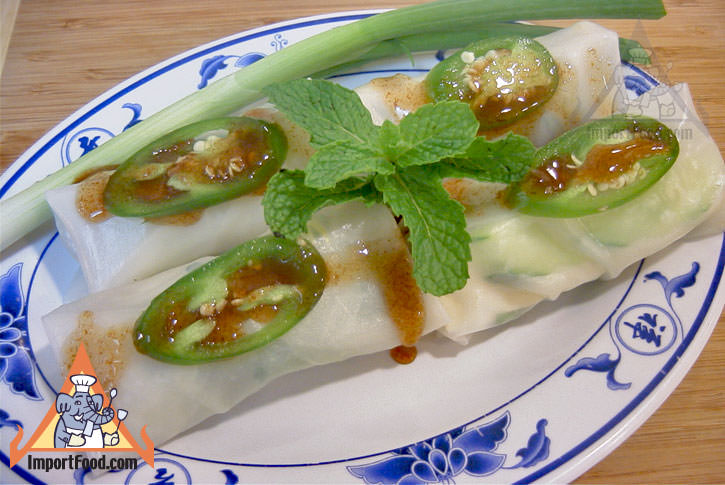 Thai Fresh Spring Rolls, 'Pa Pia Sod'
Fresh rolls are healthy and delicious, and the fruity tamarind sauce adds super flavor character. Thai-style fresh rolls are called po pia which is a Chinese word, so this is Chinese style which became popular in Thailand. Vietnamese fresh spring rolls are more commonly enjoyed in America, so you might be more familiar with them. This version is typically what you find in Thailand. Don't be afraid to pop them in the microwave and serve warm. Vegetarians can easily leave out the pork and shrimp, and use shiitake or other mushroom.
Though we did not use them in this recipe, often bean thread noodles are added to fresh spring rolls. Just soak for 5-7 minutes, and add a small amount to the mix.
We also have
Recipe for Poh Piah Tod Fried Spring Rolls
Recipe for Fresh Salad Rolls
Recipe for Fried Spring Rolls
---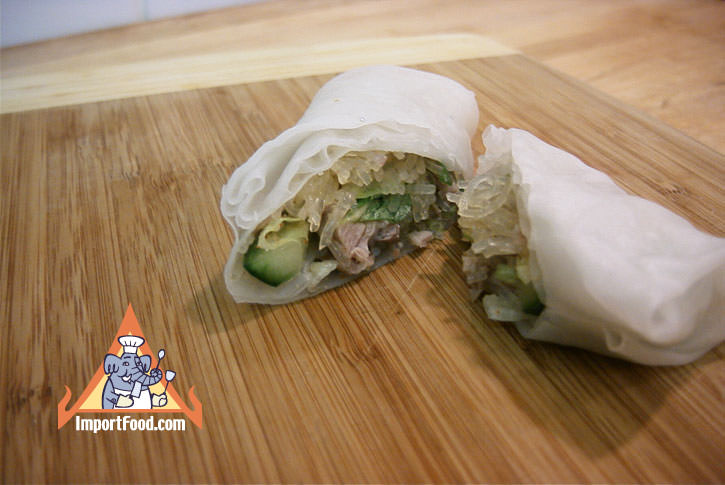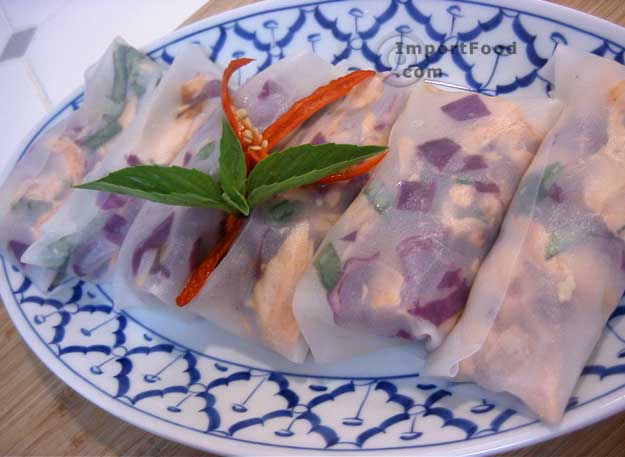 Salmon & Green Salad Fresh Spring Rolls, Thai-American Style
This recipe is from our "Thai-American" section, which contains dishes that would not typically be found in Thailand. This one is definitely a crowd-pleaser. It works best if you use a smaller-sized spring roll wrapper(approximately 6-8 inch diameter) same as what we offer. We prefer wild salmon for this recipe, which can be steamed (as we did in photo below) or simply baked for 15 minutes or so, we like to use a small toaster oven to bake salmon.
---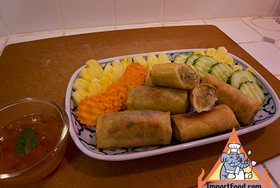 Thai Fried Spring Rolls, 'Poh Pia Tod'
Fried spring rolls are on the menu at Thai, Chinese, or any Asian-style restaurant, and we think this style using genuine Thai beanthread noodles is the best. This is classic snack food that can also fill you up. Make a large batch if you'd like. After cooking the rolls, set them out in the open air without covering them up, and they'll stay crispy.
We also have
Recipe for Fresh Salad Rolls
Recipe for Fresh Spring Rolls
Recipe for Fried Spring Rolls
---