Larb Woonsen in Spring Roll Wrapper

Larb Woonsen in Spring Roll Wrapper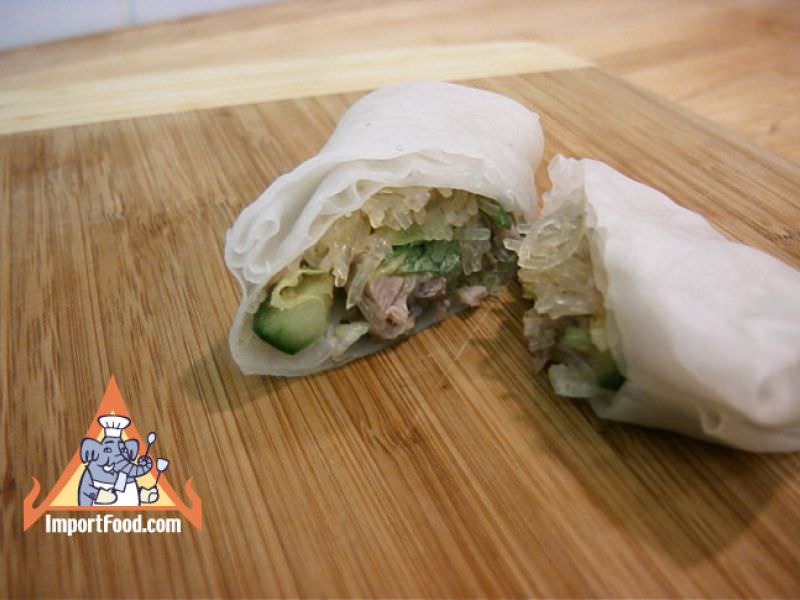 Method for Larb Woonsen in Spring Roll Wrapper
Soak bean thread in water for at least 5 minutes, then use scissors to cut it a few times into 2-3 inch pieces. Boil in water for just 2 minutes, drain, place in bowl, drizzle a small amount of vegetable oil over noodles to prevent them sticking together, and set aside.
Place the noodles in a large mixing bowl, add galangal, shallot, cooked pork, khao koor, long bean, spring onion, cilantro, lettuce, cucumber, ground Thai chile powder, fish sauce, sugar, and lime juice. Toss gently until mixed well. Taste it and adjust flavor as you like. You might want a bit less chile powder to tone it down, more lime juice to add sour, or sugar to add sweet flavor. Top with a generous amount of whole fresh mint leaves. Set aside.
Fill a glass pie plate with hot (not quite boiling) water. Working one at a time, dip a spring roll wrapper in hot water until softened (about 10 seconds). Gently blot dry. Place softened wrapper on a clean work surface. Spoon desired amount of Larb Woonsen filling near one end, leaving a 1/2" border. Fold sides of wrapper over the filling and roll tightly. Cover with a damp paper towel to keep moist. Serve and enjoy!
Larb woonsen in spring roll wrapper
Warm water into pan with rice paper
Set wrapper down and larb on top

Reviews