Northern Thai Pork Curry, 'Gaeng Hanglay'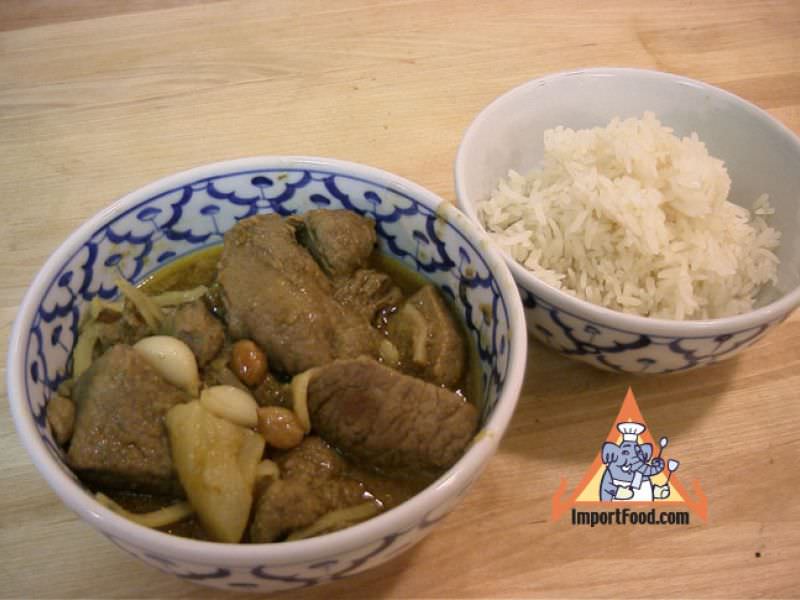 In our continuing effort to present regional Thai recipes, here is an authentic version of Gaeng Hanglay, a northern Thai curry made with pork (or beef). Similar to massaman but without the coconut milk. The main ingredient is pork, and you can use a fatty belly pork or other cut of your choice. Other distinctive ingredients are ginger and pickled garlic.
Thanks to our distinctive Hunglay Paste from Thailand you can make a real masterpiece.
Some recipes call for Santol fruit (wild mangosteen) or pineapple cut into large cubes. We used fresh pineapple with good results. This dish originated from Burma, and in Burma this is usually served with Khai bananas (small bananas). You will usually find gaeng hanglay served in Khantok-style Thai dinners as one of the main dishes, together with sticky rice.
Ingredients
For 4 Person(s)
Ingredients for the Curry Paste
Ingredients For The Soup
Ingredients for Keang Ho Soup
Left over soup from Hunglay above

Any vegetables you have in your fridge such as cabbage, carrot, broccoli, coliflower, green onion, bamboo, baby corn, green beans, etc.

Fresh Garlic Chopped
Buy ingredients for this Recipe
Method for Northern Thai Pork Curry, 'Gaeng Hanglay'
Method for the curry paste
In a mortar and pestle pound the soaked dried chillies with salt until fine, then add galangal, lemongrass and garlic. Pound this until it becomes a fine paste. Add shallot and shrimp paste. Pound until smooth. You will have about 2/3 cup of chili paste.
Method for the soup
In a large mixing bowl, combine all of the pork with the curry paste, 1/2 cup of liquid from pickled garlic, and Thai curry powder. Mix well (put rubber glove on if mixing by hand) and let this marinade for 1 hour (stir the meat after half hour).
In a large pot or large wok stir fry the marinaded pork on medium heat for about 10-15 minutes until it's no longer pink. Add water, and cook until it comes up to a boil. Turn the heat down to low, let cook for 30 minutes. (Note: You can scoop off the fat that comes up to the surface, and save this fat for another dish called 'Keang Ho' later if you prefer).
Add pickled garlic cloves, ginger, peanuts and pineapple. Continue to cook over medium/low for another 30 minutes. Season with soy sauces, palm sugar and tamarind. The taste will be sour and sweet with a little bit salty. Let it cook for another 30 minutes. Serve and Enjoy!
Keang Ho Soup (optional accompaniment to serve with Hanglay)
In the wok, heat the reserved fat of the Hanglay together with garlic. Stir fry until fragrant then add your vegetables starting from the one that takes longer to cook. Then add the left over soup from hunglay, followed by the beanthread noodles, and chili. Season with fish sauce if necessary. Serve and Enjoy!

Reviews