Thai Sugarcane Prawns, 'Goong Pan Oi'

Thai Sugarcane Prawns, 'Goong Pan Oi'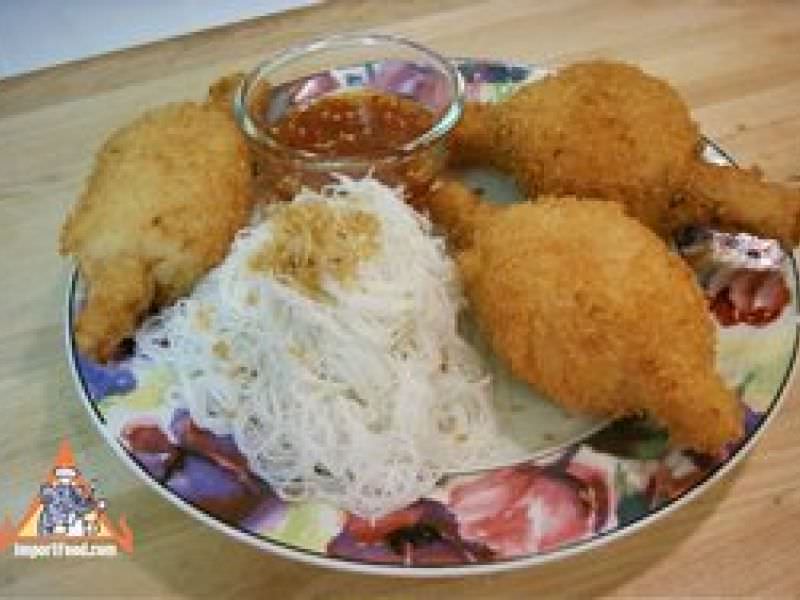 We first discovered sugarcane prawns 15 years ago in Bangkok at a delightful Vietnamese restaurant called Sweet Basil, which is apparently still in business but at a new location.
It's not spicy at all, and the sugarcane adds a nice touch of sweetness to the prawns. Aside from the wonderful taste of this recipe, just the unique appearance of prawn cakes on a sugarcane stick is enough to make your friends marvel at your cooking prowess. We know you'll like this special recipe if you give it a try.
Method for Thai Sugarcane Prawns, 'Goong Pan Oi'
We made this two different ways. First coating only the end of the sugarcane with prawn mixture (as we recall this is the way Sweet Basil restaurant served it). Next we put a larger amount of the prawns in the center of the sugarcane (see last picture, below). We do recommend steaming for a few minutes before frying, but steaming is not necessary if you don't have a steamer.
Another variation: we used Gogi powder to coat the prawns before frying, and we also used panko bread crumbs. We preferred the panko.
Method
Prepare about 4 sugarcanes by carefully slicing each them lengthwise into four thinner stalks (our Thai fruit knife works great). In other words, make 4 sugarcane into 16.
Clean prawns by removing shells, then put in a food processor with oil, Thai pepper powder, fish sauce, sugar, carrot and garlic. Blend until sticky.
Wrap prawn mixtur around the sugar can and steam in a stacked steamer for about 5 minutes. Roll the steamed prawns in panko bread crumbs. Fry in hot vegetable oil until golden brown, then serve and enjoy!
We served these two ways, as shown. First we served them with sweet and sour plum sauce (extremely good dip for this dish). Then we also served them with boiled rice vermicelli topped with fried garlic (see picture below) and sweet chile sauce for seafood.
Sugarcane prawns goong pan oi
Steaming the sugarcane prawns
Serve with sweet & sour plum sauce

Reviews