Burmese Pickled Tea Leaves, Yuzana
Burmese Pickled Tea Leaves, Yuzana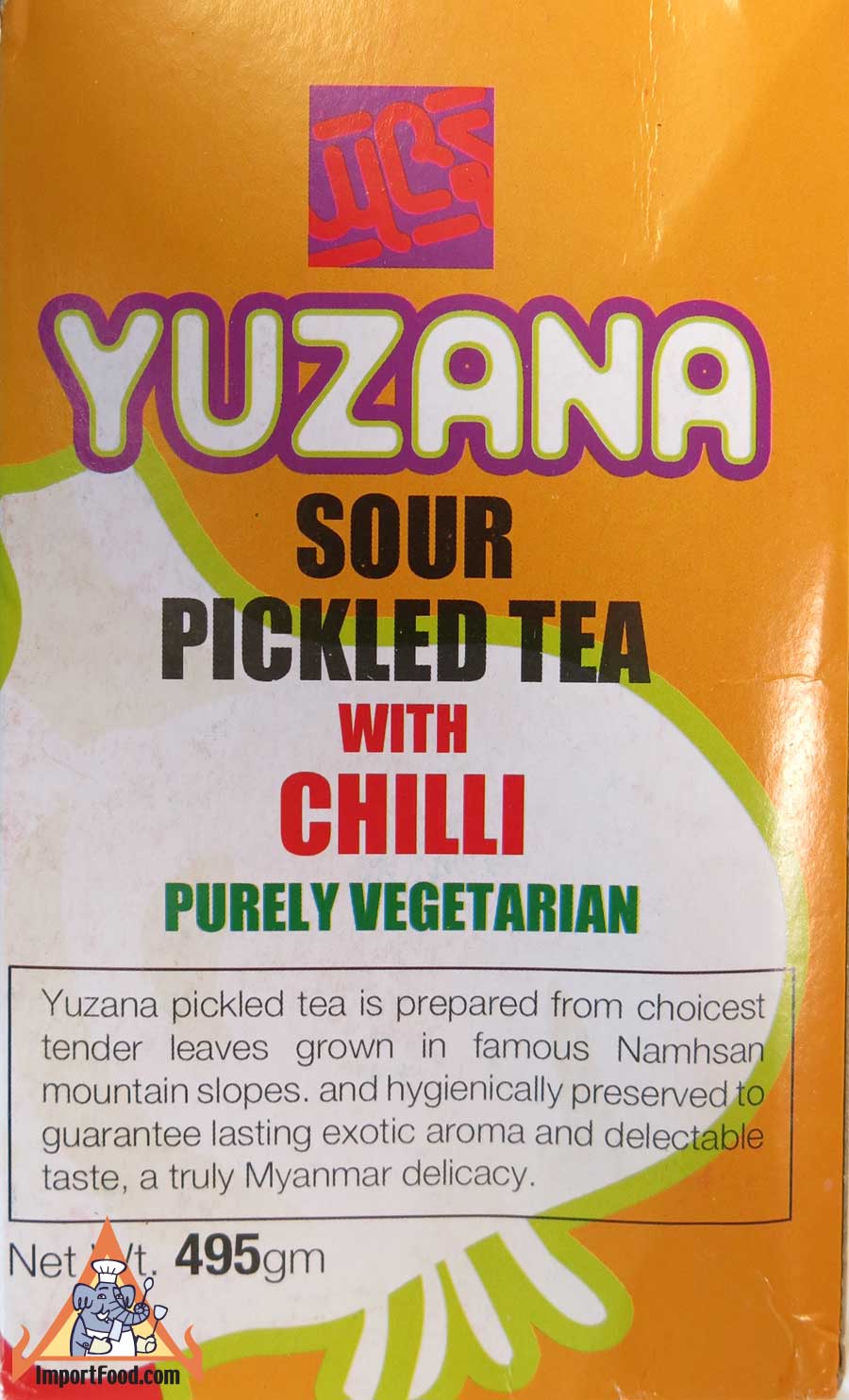 Add to cart
Temporarily Out of Stock

Culinary literature about Burmese foods always focuses on the wonderful, very unique taste of their pickled tea leaf salad. For the first time we can offer these ingredients prepared in the traditional way.
The combination of flavors is a special treat you unlike anything you've tried.
We've shown below in pictures how to prepare the salad, it's very simple. Just prepare a plate of diced tomatoes & shallots, then mix in the ingredients from this kit.
The box we show here is quite large, enough for at least 6 large salads.
Inside each box is a double-wrap plastic bag containing the wet tea leaves (lephet) which have been fermented just right, with a hint of chile pepper although not spicy at all.
There is also a large (enough to fill up a cereal bowl) of crunchy fried legumes still slightly oily and covered in sesame seeds. Combine the crunchy nuts and sour tea leaves with fresh tomatoes and shallots for an unforgetable mix of texture & flavor. So delicious, and everyone it seems loves it.
If you love food, at least once you must try this Burmese salad.
The box states "Yuzana pickled tea is prepared from choicest tender leaves grown in famous namhsan mountain slopes. Hygienicallly preserved to guarantee lasting exotic aroma and delectable taste, a truly Myanmar delicacy.
From our customer who loves this product: "If you make the tea leaf salad for yourself, try soaking the leaves, for a day, in lime juice and a tiny bit of fish sauce. Then, drain them. Mix them with chopped up romaine lettuce, fried garlic, tomatoes, and red onions. I also drain the bean mixture a bit, then squeeze a lemon or two on the salad before tossing. It is always the favorite dish at work gatherings! "
Ingredients: yuzana lephet, round fried garlic, baked sesame, baked peanuts, fried butterfly peas, fried Australian peas, fried gram chick peas, salt, peanut oil, lemon, garlic, fresh chilli, preservatives E202 0.1% & E296.
You Might Be Interested in Our Authentic Thai Tea.