Hale's Blue Boy, Sala Flavor Sweet Drink Mix
Hale's Blue Boy, Sala Flavor Sweet Drink Mix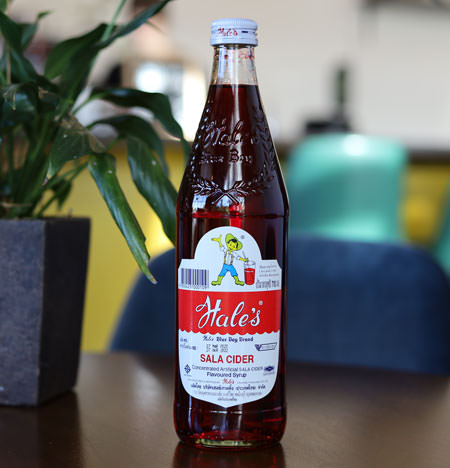 Add to cart
Temporarily Out of Stock

We also offer Cream Soda Hale's Blue Boy.
Hale's Blue Boy brand has been offering aromatic, very sweet drinks in Thailand for many years. This is a sweet syrup that can be used on snocones, or more commonly mixed (1 part syrup with 4 parts water).
See our feature story: Thai Street Vendor Refreshing Shaved Ice Treats
Serve over ice (1 part syrup to 4 parts water, over ice) for a very sweet drink that complements Thai food.
Notice the unique fragrant aroma also.
The glass bottle is very thick and "old school", with a beautiful embossed label as part of the bottle. You may want to keep the gorgeous bottle as a keepsake.
The large bottle is a generous 23 oz so this goes a long way.
Ingredients: refined sugar, sala flavor, sodium benzoate, red. Product of Thailand.