Pure Fresh Red Chilli Sauce
Pure Fresh Red Chilli Sauce

Add to cart
Temporarily Out of Stock

A delicious red chilli sauce. The flavor comes from red Thai chile peppers at the perfect stage of ripeness, creating a hot and spicy sauce that also has gentle hints of fruit. It won't over-power any meal with heavy chile flavor, but it is very "hot" if you use it generously. Slightly less heat than our Shark brand sriracha sauce.
This goes great with eggs, barbeque, marinades, etc. Try it in our recipe for Panko Shrimpcakes with Chile-Lime Sauce. Only a small amount is needed to add the perfect kick to your food.
Made in Thailand in a modern facility by the same people that bring Mae Krua oyster sauce.
We also offer fresh yellow chilli sauce which is a bit less spicy than red.
Packed in an elegant glass bottle with modern cap which allows easy serving. Ingredients: red chile 70%, garlic 10%, sugar 8%, vinegar 7%, salt 5%. No artificial color added, no preservative added.
Our customer had this to say about the fresh red chile sauce:
"My name is Chef Sam Bevelacqua. I'm a 50 year old retired executive chef of three hotels in New Orleans. I presently own the food & beverage operation at a local country club. I received my package from you guys some time back, but Sunday I opened the shark brand (med) heat and the new gold label fresh red chili sauce and it was all gone by Sunday night. OUT OF THIS WORLD STUFF. I'll never buy Huy Fong again, although I do like the intense chili flavor, but its a little to hot, sometimes over baring. Do you guys have a bulk bottle, or a gallon bottle available? I'm not using it at the country club, I'm using it at home, FOR NOW. The smell of these two chili sauces are intoxicating. I sprinkled some on the dog to make him smell good. Please respond, and thank you for your efforts. Your Satisfied Customer, Chef Sam Bevelacqua."
---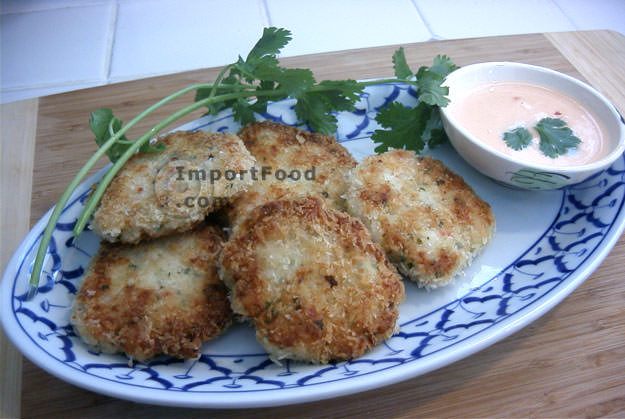 Panko Shrimpcakes with Chile-Lime Sauce
Shrimpcakes are often served in the more upscale Thai/Chinese restaurants in Thailand. We love the flavor of these shrimpcakes. The chile-lime sauce is definitely not a Thai flavor, but it's quite tasty. We think you would enjoy this dish just as much if the shrimpcakes are served with fresh yellow chile sauceand or Mae Ploy sweet chile sauce so the chile-lime sauce is optional. For best results use the largest, best quality shrimp you can find.
---