Stainless Bakelite Handle Large Thai Spoon - Round
Stainless Bakelite Handle Large Thai Spoon - Round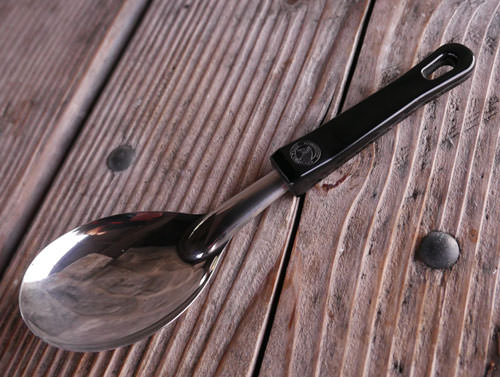 Add to cart
$7.95

We imported a lot of these direct from Zebra and now have it at a great price.
High quality stainless steel large spoon from Zebra is thick and durable--feels as much like a timeless automotive tool as a kitchen utensil. The modern bakelite handle is tough and well-designed.

Total length is 10" long, and the spoon is 3" wide. Technically called a rice ladle, this is what you find throughout Thai restaurants to serve jasmine rice from a large bowl to a smaller dish (picture below shows a rare wild sinin rice).
We also offer a slightly longer spoon from Zebra with a more pointed end.
Used by chefs for everything, including scraping a mortar while pounding with pestle in the other hand. This large spoon will be one of the most commonly used things in your kitchen, and we are pleased to offer it for a great price.
---