Stainless Thai Street Vendor Scissor Tongs, 16"
Stainless Thai Street Vendor Scissor Tongs, 16"

Add to cart
$11.95

---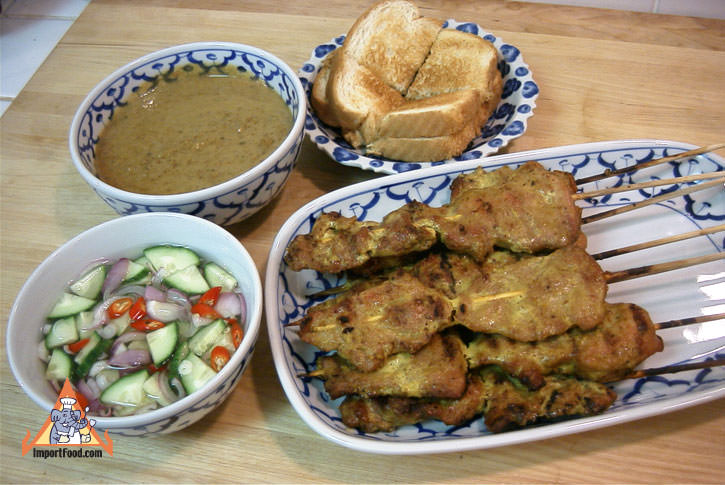 Thai Pork Satay, 'Moo Satay'
Pork satay consists of strips of marinated pork on bamboo skewers, charcoal barbequed then served with a tasty peanut sauce and a white vinegar cucumber sauce. It's often served in Thailand with squares of toast, as shown in our recipe here. We made pork satay in the true authentic Thai style, which is time-consuming. Be sure to baste your satay as it's on the barbeque, note from our street vendor video (below left) he is constantly basting. It seems that most of the time, this style of satay is made with pork, but you can also find chicken satay and prawn satay. We offer a ready-made satay mix that's quite good for both chicken and pork.
Recently we had a fantastic meal using this recipe, prepared with our high-fat Chaokoh coconut cream rather than coconut milk, and we omitted the peanuts altogether which led to a very rich, slightly spicy satay full of true Thai flavors (see pictures below right).
There are four different things you need to make: marinade, basting sauce, satay sauce, and ajad.
---