Thai Ceramic, oval serving plate, 11 in
Thai Ceramic, oval serving plate, 11 in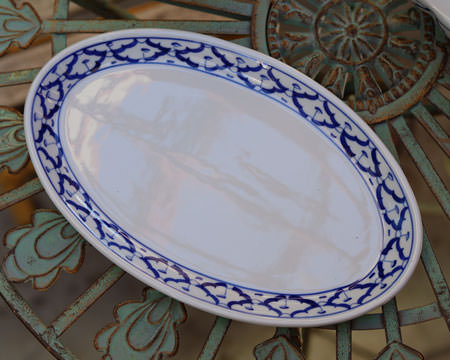 Add to cart
$14.95

Handpainted ceramic oval plate imported from Thailand. Each piece is painted by hand using a traditional design unique to Thai artisans.
You will appreciate the weight of this thick, ultra-high quality plate. When serving groups at a Thai dinner, serve the main dishes on these plates and let guests share.
Approximately 10.75" long, 6.5" wide. Certified for use in microwave or conventional oven, as well as dishwasher-safe.
---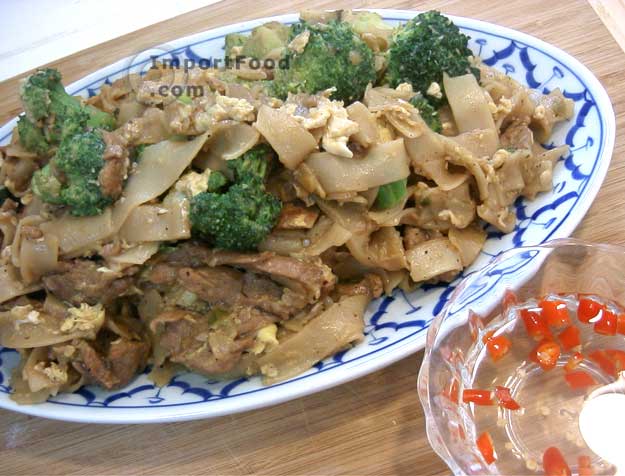 Thai Stir-Fried Wide Rice Noodles, 'Pad Si-iew'
Siew means soy sauce in Thai. This recipe is very tasty and savory but takes a long time to prepare. We now offer a convenient instant pad siew sauce although if you learn how to make the real thing from scratch, as described below, it should be worth the effort.
---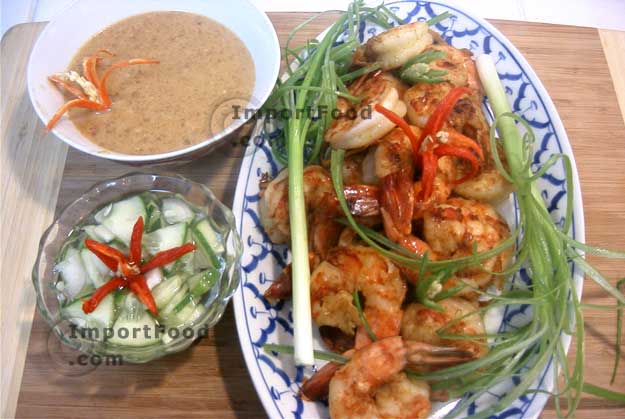 Thai Prawn Satay with Cucumber Salad
Satay is a flavor more common in Thai restaurants in America than in Thailand. We are pleased to offer this authentic, all-natural satay spice recipe for prawns. We recommend that you use the largest prawns available, and fry them in a skillet or what we used (see pictures below) is a George Foreman Grill which is remarkably useful for this dish. You can also use chicken for this recipe (simply substitute chicken for prawns, and put the chicken meat on bamboo skewers). Also see our recipes for pork satay and chicken satay.
---