12" Thai chef knife, Kiwi, wood handle
12" Thai chef knife, Kiwi, wood handle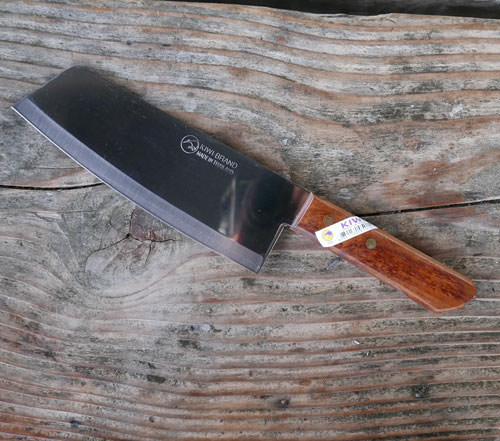 Add to cart
$10.65 Kiwi Brand Chef's Knife, 12"

Similar to the Japanese Santoku knife, here is a multipurpose knife with a nice long 7" blade that is almost shaped like a cleaver.
Offered in our a set of two chef knifes for $15.00
We also feature this in our Set of Four Knives.
Featured January 2018 by Saveur Magazine as a "Staff Favorite...the tall blade is similar to pricy Japanese santokus, so it is ideal for straight chopping, but it also has a bit of curve for easily rocking through herbs and minced garlic. The angled tip is handy for for delicate tasks that might feel clumsy with a traditional santokus".
Hardwood handle with brass rivets. Total length is 12", the blade is 7". Feels really nice in your hand, and what a great price.
Made in Thailand and stamped with Kiwi Brand Made in Thailand.
Saveur also recommends the similar Sharp Point Plastic Handle Knife.