Set of four Thai knives, Kiwi
Set of four Thai knives, Kiwi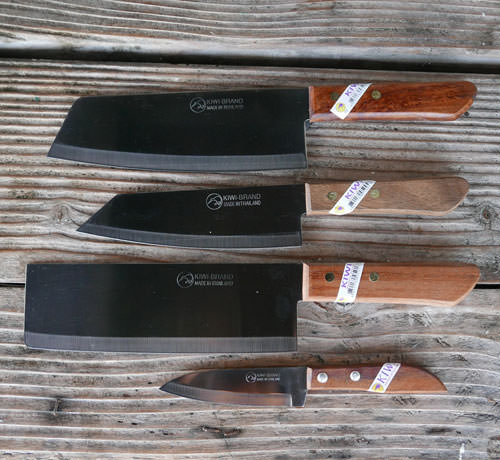 Add to cart
$34.50 ($40.50 Value)

Included are one of each:
Wood handle chef's knife, 12"
Wood handle pointed knife, 11"
Wood handle chopping knife 12.5"
Multi Purpose Knife

The stainless steel blades are extremely sharp and strong yet light.
Made in Thailand and stamped with Kiwi Brand Made in Thailand.
Here is what our long-time customer Clarice in Washington DC sent to us via email, after receiving her Kiwi knives.
I have lots of expensive knives but decided to try some of your kiwi ones and , boy, am I ever impressed! Wonderful balance, light weight and very sharp. Easy to use.
See our entire selection of Kiwi Knives.