Thai Cashew Chicken, 'Gai Pad Med Mamuang Himaphan'

Thai Cashew Chicken, 'Gai Pad Med Mamuang Himaphan'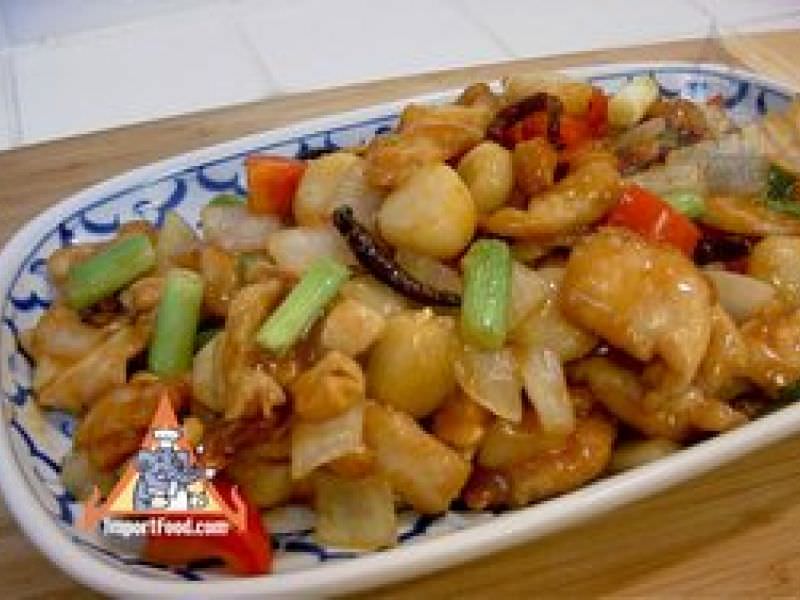 One of the more popular dishes on the menu in Thai restaurants in America but also Thailand. This recipe is time-consuming but the result is spot-on perfect.
The finest cashews in the world are grown in Thailand, mainly on the island of Phuket. Mamuang himaphan means cashew nut but there is an interesting translation. Himaphan's original meaning refers to the Garden of Eden, and the cashew nut looks like a small mango. The resulting pun can mean "mango of paradise", suggesting culinary heaven. We use regular refined white sugar for simplicity but you may use palm sugarfor a more succulent flavor.
Ingredients
For 4 Person(s)
Ingredients for Step 1
Ingredients for Step 2
3/4

Cup

Vegetable Oil

1/2

Cup Whole Dried Chile

1/4

Cup

White or Yellow Onion, Diced (large dices work best)

1/4

Cup

Red Bell Pepper, diced same as onion

1/2

Cup

Water Chestnuts (Available in supermarkets, canned)

3

Spring Onions, cut into 1
Ingredients for Step 3
Buy ingredients for this Recipe
Method for Thai Cashew Chicken, 'Gai Pad Med Mamuang Himaphan'
Method - Step 1
Toss chicken with tapioca flour, rice wine and Golden Mountain sauce, and marinade for 10 minutes or a bit longer.
Method - Step 2
Heat the oil in a wok or large skillet over medium heat. Add chicken and cook until brown and firm, then remove chicken to a plate covered by paper towel. Pour out the oil except for about 3 tablespoons, then fry the whole dried chile until crunchy. Add onion and bell pepper, stir-fry briefly until soft. Remove from heat and transfer to the same plate with chicken.
Method - Step 3
In a small mixing bowl, mix all of the ingredients listed above. Saute this sauce in a wok until it starts to thicken (add a bit more water if it becomes too thick). Add the cooked chicken and other cooked ingredients back into the wok with the sauce. Add cashew nuts, water chestnuts and spring onion. Stir for just a moment then promptly remove from heat. Transfer to serving dish and spoon over steamed jasmine rice. Enjoy! This is one of the best-tasting recipes we feature.
Cashew chicken gai pad med mamuang himaphan
Frying onion bell pepper and chile

Reviews