Tiparos Fish Sauce From Thailand
Tiparos Fish Sauce From Thailand
Add to cart
$8.65-25oz

Tiparos is back after a fairly long period of not shipping to the US due to various reasons, and we are very happy to offer it again. We sold the famous plastic Tiparos bottle for 15 years. This was one of the top selling Thai fish sauces in America and was widely used in restaurants.
Tiparos has a street appeal, being the familiar fish sauce served throughout Thailand as an everyday pedestrian favorite. Restaurant chefs love the squeeze bottle for ease of use when cooking. Premium quality, familiar taste, and the best value price. You can see Tiparos in many of our Thai street vendor videos.
Despite the availability of premium fish sauces, many customers know what flavor they like, and they choose the plastic bottle pedestrian flavor of Tiparos.
Please see our photo tour and explanation of exactly how fish sauce is made.
Tiparos is packed in the same distinctive, large 25 oz plastic bottle. The sodium content is lower than other brands.
Ingredients: anchovy extract, water, salt, sugar.
Product of Thailand.
We also offer other brands of fish sauce.
---
---
Here are some popular Thai recipes using fish sauce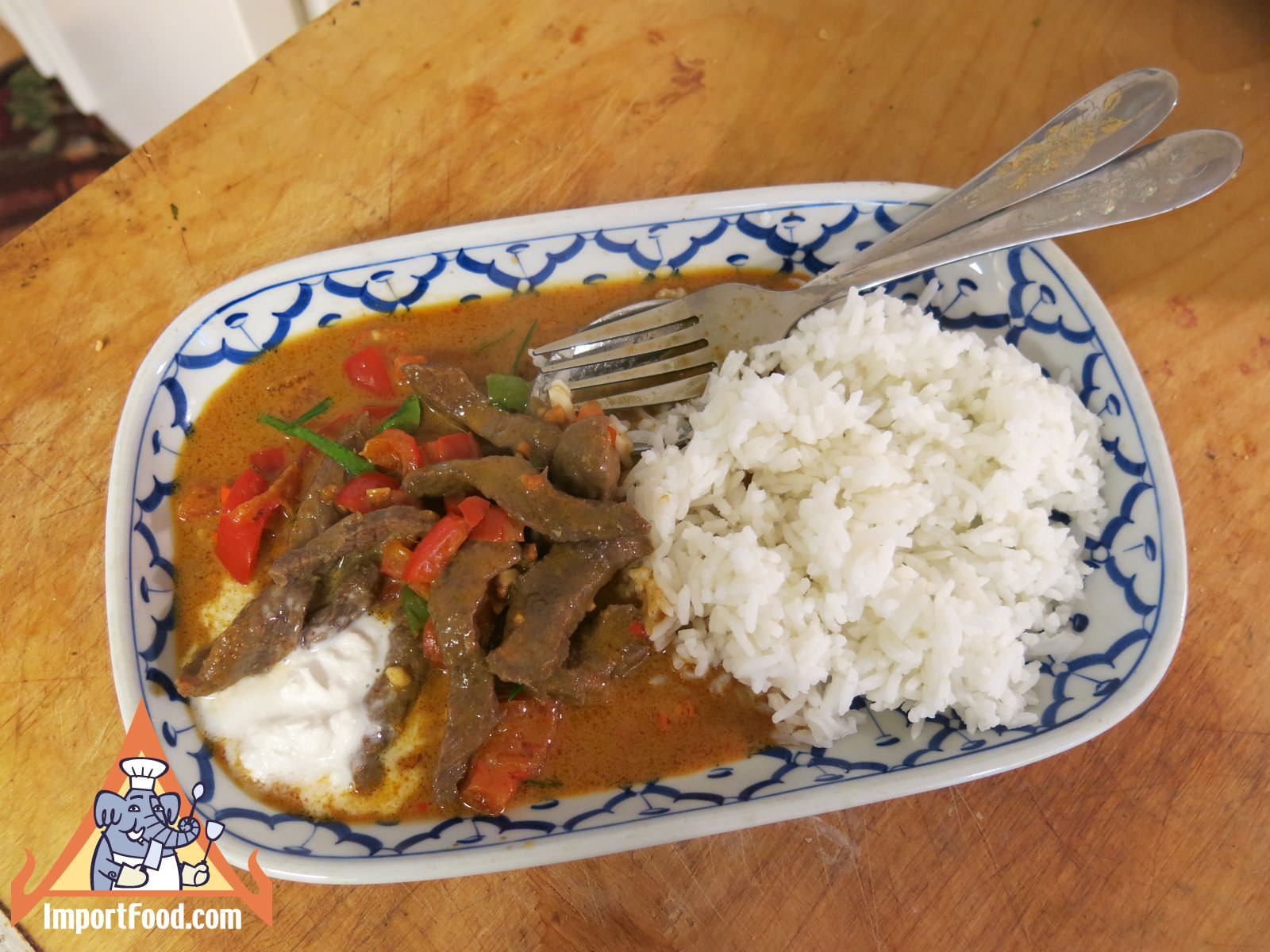 Thai Panang Beef
Panang beef is one of those recipes that everyone loves, whether it's kids or grandparents, college students or anyone else from any country in the world. Rich herbal flavors inspired by Indian influence in Thailand, and adapted to give it a unique Thai flavor.
Unlike some Thai recipes that take a great deal of time to prepare, a delicious panang can be made in minutes using a handful of key ingredients. Here we've prepared a simple recipe that's sure to be a popular favorite. It's best prepared with the highest quality coconut milk with higher fat, such as our 100% pure Chaokoh coconut cream.
We also have a recipe for panang chicken but beef is probably the best way to enjoy panang. In photos below, notice we demonstrate making panang beef on two different occasions, the second time we usedchee fah chile peppers in addition to red bell.
---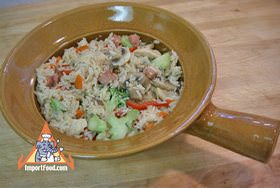 Baked Rice in Earthenware Pot, 'Khao Op Mor Din'
This is a tasty baked rice that you might find in a fancy Thai-Chinese restaurant. We like how the chicken and ham blend with the rest of the flavors, but you can omit the meat or use less. Use the vegetables of your choice. To make this dish we used the authentic Thai clay pot as shown, and that really does enhance the flavor because the lid allows slight airflow. We heated the clay pot in the oven before adding the rice also.
---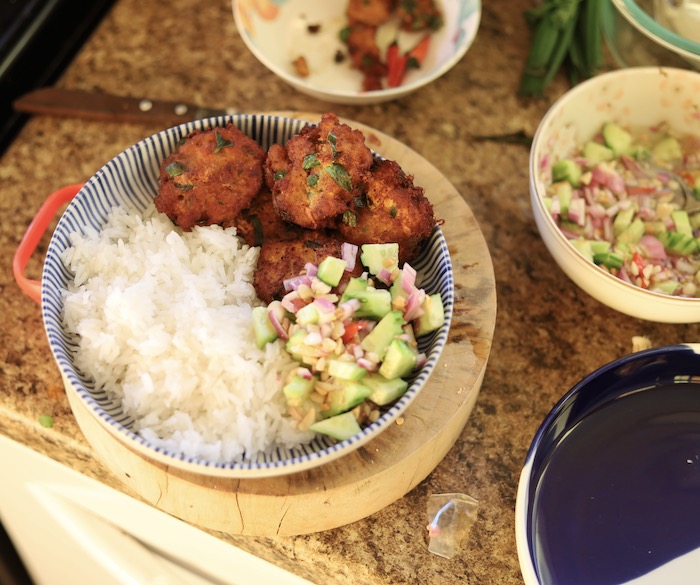 Spicy Thai Fish Cakes, 'Tod Man Pla'
Tod man pla is one of the most famous Thai dishes but seems to be rarely offered on the menus of Thai restaurants in the United States. We're happy to show you how to make it, step-by-step, with great results.
Here we just used cod pieces which can found at local supermarkets.

Also see our Thai Street Vendor video for detailed guidance.
---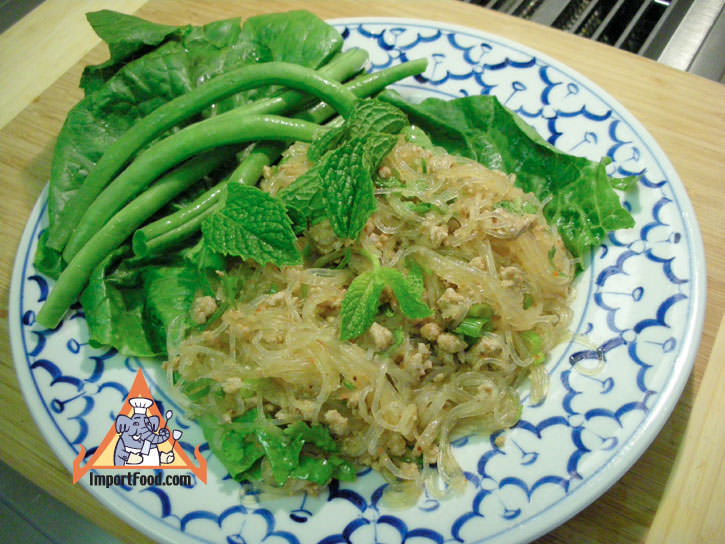 Larb with Glass Noodle & Minced Pork, 'Larb Woonsen Moo Sap'
If you like spicy Thai food, chances are you will love larb. This is a really tasty summer salad especially if served over a bed of leafy greens together with fresh green beans. In Thai language, larb is in the category of salad. Often enjoyed with beer--ask an alcoholic in Thailand what food they like with a strong Thai lager beer, and they might mention larb. Perhaps the most common is larb gai (chicken) or pork. It's a one-dish meal or it can be served with rice. We like this version with beanthread noodles (also called glass noodles). Made from ground mungbean flour, these clear noodles soak up the flavor of the spices. We also have a recipe for vegetarian larb woonsen. New Recipe: Larb Woonsen in Spring Roll Wrapper.
---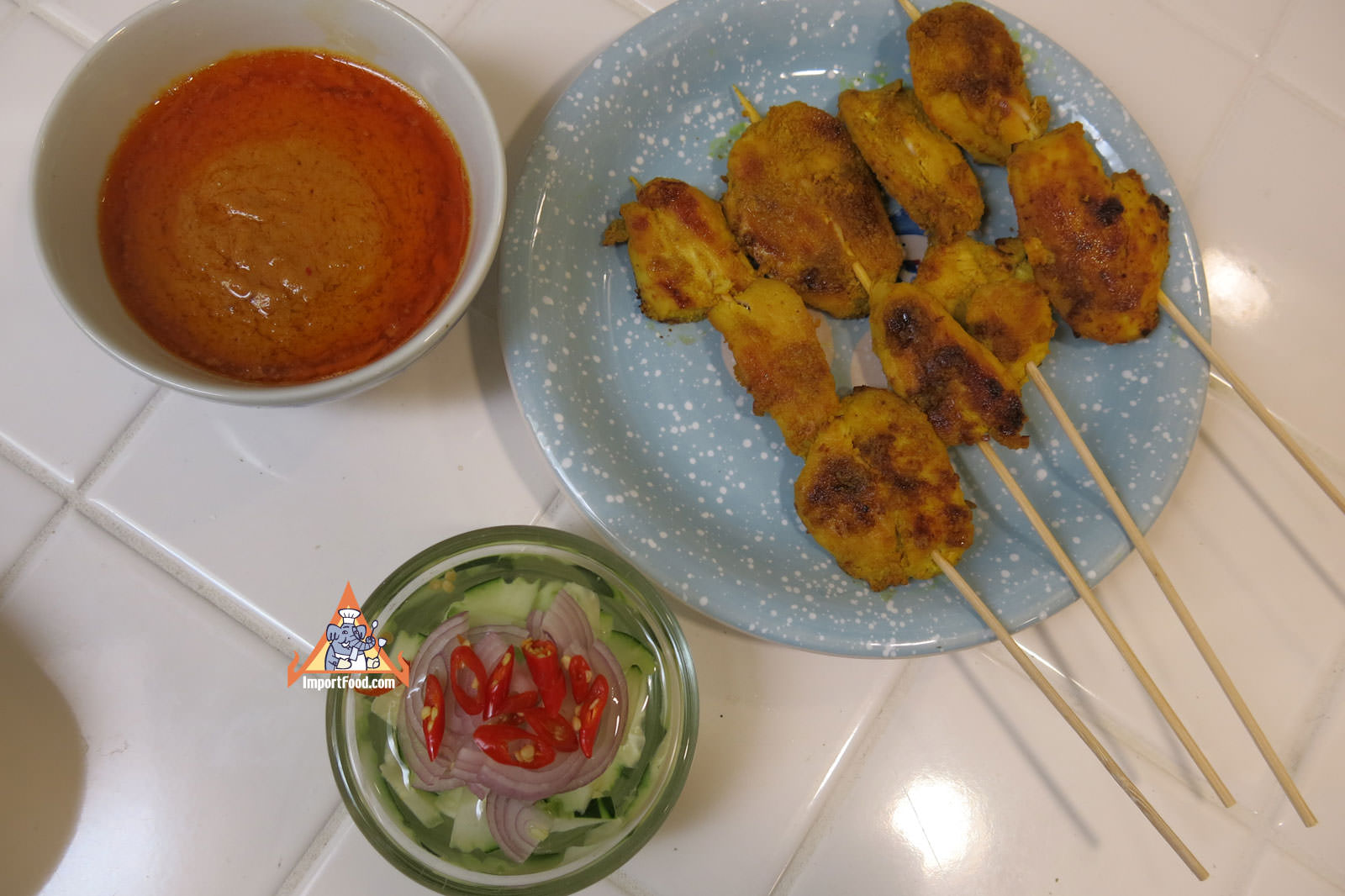 Chicken Satay, 'Satay Gai'
Satay of course is originally an Indonesian/Malay dish, but it has been in Southern Thailand for a very long time.
Here we demonstrate two versions, Version 1 is our favorite and one you can make in your kitchen without a charcoal grill. The chicken in both versions is prepared as you'd find in Thailand -- using thin strips, instead of thick cuts that restaurants outside of Thailand often serve for satay.
For a quick satay we suggest our Lobo Thailand's ready-made package.
You can of course also make the same recipe as beef satay, pork satay, or prawn satay (large prawns usually deheaded and the skewer threaded lengthwise down the body).
---
Volcano Chicken, 'Gai Pu Khao'
Here is a Thai dish not very common in restaurants, with unique flavor that we know you'll enjoy. To hold the chicken upright, we used a can of 7-Up half-full of soup stock (or use water). When the chicken is placed vertically on the plate and ignited the flames coming from the open body cavity resemble the eruption of a volcano (hence the name). No longer the exclusivity of fancy restaurants, the simple art of flambeing is becoming part of entertaining at home, and this is a great holiday dish.
---
Here are some other fish sauces available at ImportFood.com