Thai Spicy Chicken With Vegetables

Thai Spicy Chicken With Vegetables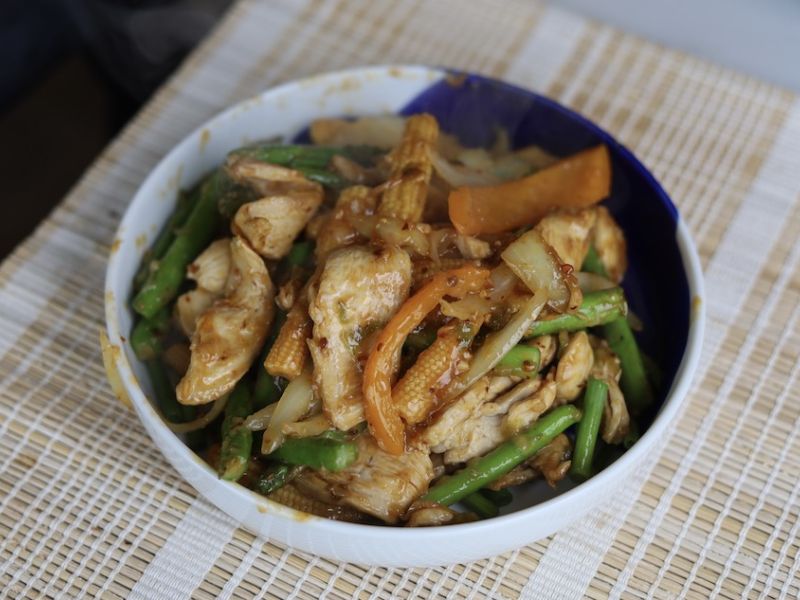 This recipe is simple to prepare and has the nice punch of chilli from Thai Fried Chilli Paste. MSG is optional but here we show you how to use just a touch for added flavor.
Method for Thai Spicy Chicken With Vegetables
Break the baby corn in half and do the same with your asparagus,. Then immerse them separately into boiling water for just half a minute, remove, rinse and set aside,
Slice the green onion as shown then fry in vegetable oil. Add sliced chicken to the pan, add salt, fish sauce, and MSG (optional). Fry for a bit at medium heat then add Thai Fried Chilli Paste. Mix well and add crushed black pepper. Cook a bit longer then add oyster sauce followed by sugar.
When the chicken is cooked through, add sliced onion, and your corn & asparagus. Stir fry to heat everything then pour over a slurry of glutinous rice flour & water. How much slurry to add it up to you but we didn't add much, just enough to thicken it.
Turn up the heat and fry just a minute or so then transfer to a plate.
Enjoy!

Reviews