Barbecue Chicken Salad, Thai-American Style

Barbecue Chicken Salad, Thai-American Style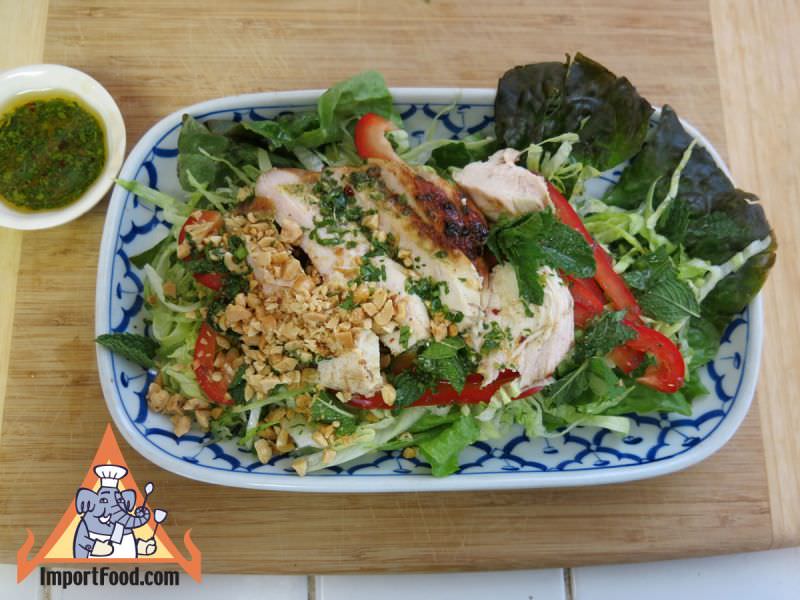 This recipe is from our own kitchen, not something you would typically find in Thailand, so we indexed it in our "Thai-American" section. Lately chefs in Thailand are combining ingredients to come up with creative dishes though, so it wouldn't surprise us to find something like this.
Basically, this is simply Thai barbecued chicken ("Gai Yang") sliced up and served over a green salad with a mint and prik pao dressing. We marinaded the chicken overnight and cooked it nice and slow over charcoal. We suggest you follow this method for making the gai yang, or use one of our two good recipes for gai yang here:
Ingredients
For 4 Person(s)
Ingredients
1

Broiler Fryer Chicken (about 3 1/2 pounds)

1

Can (13 Ounce) Coconut Milk

1

Tablespoon Curry Powder

1

Tablespoon Lime Juice

2

Tablespoons Fish Sauce

3

Clove Garlic, Minced

1/4

Cup

Cilantro Leaves, Chopped

2

Teaspoons

Brown Sugar

1

Recipe Sweet & Sour Cilantro Dressing, (recipe follows)

12

Red Lettuce leaves, rinsed

1

Medium

Head of lettuce, shredded

1

Large

Red Bell Pepper, seeded and sliced

1/2

Cup

Mint Leaves, Torn

1/3

Cup

Finely chopped peanuts
Ingredients For Dressing
2/3

Cup White Vinegar

1/4

Cup

Sugar

1/4

Cup

Cilantro, Minced

1/4

Teaspoon

Salt

1/2

Teaspoon Prik Pao

1/3

Cup

Safflower Oil
Buy ingredients for this Recipe
Method for Barbecue Chicken Salad, Thai-American Style
Method
Rinse chicken, pat dry. Split chicken in half with a large, sharp knife. In a large bowl whisk curry powder into coconut milk. Blend in lime juice, fish sauce, garlic, cilantro and brown sugar. Add chicken, turning to coat in marinade. Cover bowl; refrigerate at least 4 hours or overnight. Preheat charcoal grill or oven broiler. Place chicken on grill or broiler, skin side down. Turn after about 10 minutes. Cook until juices run clear or fork can be inserted in chicken with ease, about 30 minutes. Cool chicken slightly; cut into strips.
Dressing
Prepare dressing. Arrange lettuce leaves on 6 plates. Combine strands of lettuce, bell pepper and mint; portion onto lettuce leaves. Scatter chicken on top. Sprinkle with peanuts; serve with dressing.
Combine all ingredients; stir until sugar dissolves. Makes about 1 cup.

Reviews