Thai Green Curry Chicken, 'Gaeng Khiao Wan Gai'

Thai Green Curry Chicken, 'Gaeng Khiao Wan Gai'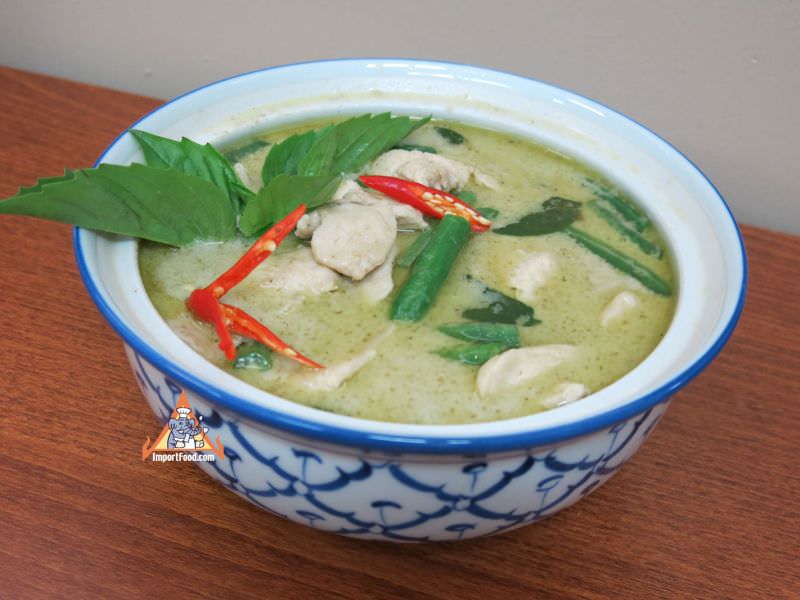 Method for Thai Green Curry Chicken, 'Gaeng Khiao Wan Gai'
In a mortar and pestle, pound fresh Thai chile peppers and garlic. In a wok, over medium/high heat, add vegetable oil then fry the fresh chile/garlic for 30 seconds or so. Then add curry paste and blend together. Stir constantly until it gets fragrant.
Add coconut milk slowly, bring to a high boil then reduce heat while constantly stirring. Be patient and keep it on a high simmer / low boil for about 5 minutes. Keep stirring it while cooking. Add chicken, and continue to stir while cooking until a thin film of oil apppears on the surface. Continue cooking over low heat until the chicken is cooked through
Adjust the flavors to suit yourself, by adding fish sauce and palm sugar. Our suggested quantities of 2 tablespoons each, should work well. Add fresh green beans. Transfer to a serving dish, top with a few leaves of fresh basil, and serve with jasmine rice. Serve in our elegant, hand-painted Thai ceramic bowl with lid. Makes two large servings.
Add sliced lime leaves and chicken
Add palm sugar fish sauce fresh basil
Fry fresh chiles and curry paste
Add coconut milk simmer awhile
Fry green curry paste until fragrant
Incorporate some coconut milk
Slowly add more coconut milk

Reviews