Thai Crispy Fish Topped with Chili Sauce, 'Pla Rad Prik'

Thai Crispy Fish Topped with Chili Sauce, 'Pla Rad Prik'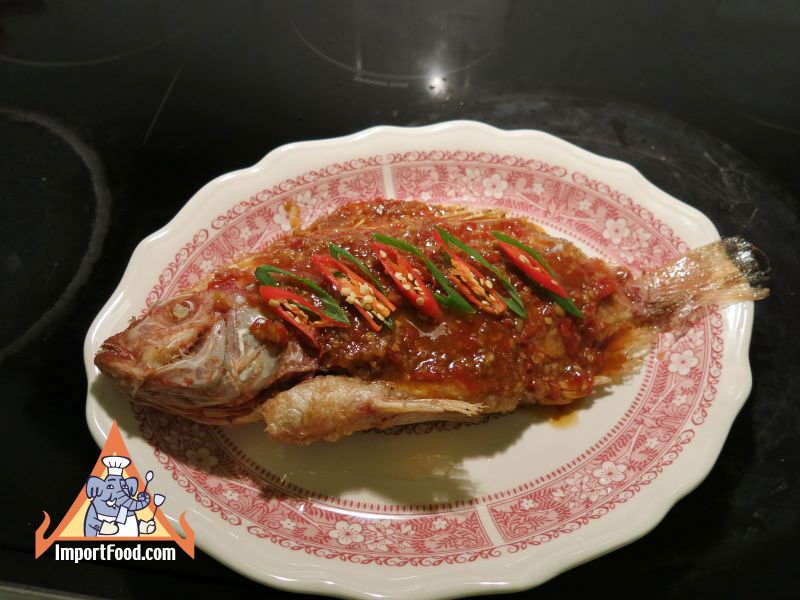 This is a very spicy crispy fish that's surprisingly simple to make using just a few ingredients. It's best to use fresh red Thai chile peppers. Regarding the fish, here we used tilapia you can use any fish such as cod, catfish, trout, salmon, etc. We had the fish cleaned and gutted but left the head on. You may prefer to remove the head, or even use fish fillets -- it doesn't matter.
Note that when you've finished frying your fish, put it in the oven at 350F for 10 minutes or so as you prepare the sauce, as this will make it even more crispy.
Method for Thai Crispy Fish Topped with Chili Sauce, 'Pla Rad Prik'
Cut three or four slashes on each side of the cleaned fish. In a wok, heat two cups of vegetable oil over medium heat, just below smoking temperature. Then, deep fry your fish until crispy (about 8 minutes on each side). As a hint, when putting your fish into the oil, hold the tail and let it slide in from one side.
As your fish is cooking, pound the fresh red chiles and garlic in a mortar and pestle. Don't pound it too much, keep the mix relatively rough rather. We suggest using only 5 fresh chile peppers, but you can use a few more if your chiles are a bit mild and/or you like extra spicy.
Remove the cooked fish from oil, place it on a rack, and put it in the oven at 350F for about 10 minutes -- this will make it even more crispy.
Remove oil from wok (and wipe out the oil), place back on medium/low heat, put a tablespoon of oil back in the wok, and add chile/garlic mixture. Fry briefly until fragrant. Add tamarind, fish sauce, palm sugar, water, and saute it for a few minutes to allow it to thicken..
Pour the sauce over your fish and enjoy! Our fish serving platter is an elegant way to serve the fish. We garnished it with sliced spring onion and red chile peppers.
Cover fish with sauce enjoy

Reviews