Dumplings w/Pork Shrimp Ginger Sesame

Dumplings w/Pork Shrimp Ginger Sesame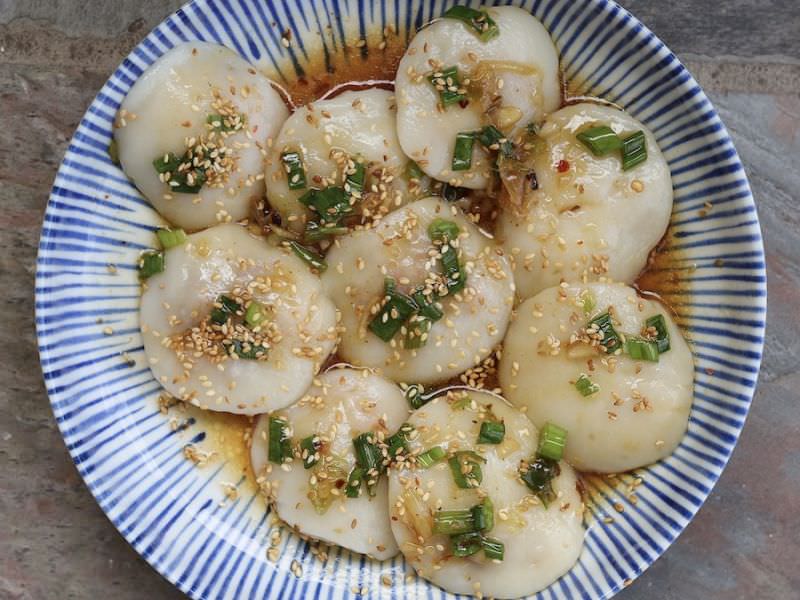 Spectacular dumplings are easy to make.
Lots of ingredients involved but follow our detailed instructions & work sequentially; it won't take long to become an expert and amaze friends & family with your ability to make the best dumplings.
We enjoyed making this here with fresh young Hawaiian ginger but any ginger works well too.
This recipe makes about 15 dumplings.
Method for Dumplings w/Pork Shrimp Ginger Sesame
On our tamarind cutting board as shown in photo we chopped about 1/2 pound belly pork, 1/2 pound raw shrimp, 2 spring onion, and one 3-4" piece of fresh ginger,
Separately, in a dry frying pan, toast your sesame seeds over medium heat until the seeds start to turn brown then set aside.
To Make The Filling: Over medium heat, fry ginger in cooking oil (we used olive oil). When the ginger gets fragrant, add spring onion, and pork, and fry until pork is cooked throughout. As the pork is cooking, add a dash of fish sauce, salt, black pepper, and 1/2 tablespoon of palm sugar (or a bit more). Don't use regular cane sugar, as palm sugar enhances the flavor. Mix then add ground Thai chilli, followed by chopped shrimp, and cook until done. Add most of your toasted sesame seeds (hold back a bit for later), mix and set aside.
To Make the Dumpling Dough: Bring 1 cup water to a high simmer. It needs to be hot but not boiling. In a nice large clean bowl, mix 1/2 package (8 oz) glutinous rice flour, with 2 tablespoons rice flour. Add 1 tablespoon olive oil. Slowly add hot water, with each small pour, knead the powder. Knead it then add in another small amount of water. Add a bit of olive oil to your hands as you mix. In just a minute or two you'll have a nice ball of dough as shown, You won't need the full cup of water.
To Make Dumplings: shape a small piece of dough into a flat circle, spoon a bit of filling into the center, flip the dough around to the top then flatten it all out into a disc as shown. In a large pot, boil water then add your dumplings one-by-one. After a few minutes the dumplings will begin to float, which means they're done, and ready to be removed from the water.
To Make The Topping Sauce: After placing some dumplings on a plate, you can prepare a quick sauce to pour over them. In a saucepan, put a bit of oil, then add some chopped ginger, green onion, and a bit of palm sugar and fish sauce. Stir then add water about 2 tablespoons water for every 1 spoon of ingredients in your saucpan. Mix well then quickly pour over your dumplings and sprinkle the rest of your toasted sesame seeds on top.
Enjoy these rich, delicious, healthy dumplings.
Enjoy!

Reviews