Thai Rama Chicken, 'Praram Long Song'

Thai Rama Chicken, 'Praram Long Song'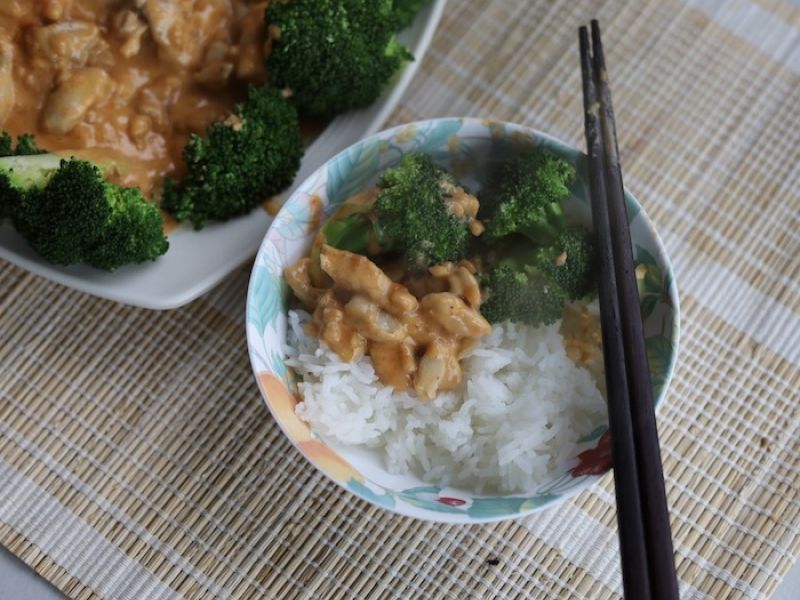 This dish dates to the time of King Rama 5, about 140 years ago. Originally it was made with beef, but nowadays pork and chicken are often used. Praram is a name for the God Rama, or King Rama, in The Ramkian. The Ramakian is the Thai version of an Indian Hundu epic written 2000 years ago. Long Song translates as 'take a shower'.
Praram Long Song is a popular dish in American Thai restaurants, but not often found in Thailand. Americans are fond of the peanut sauce, and in our recipe it's quite delicious. Sometimes called Swimming Rama, you can use broccoli, spinach, or other greens of your choice.
Method for Thai Rama Chicken, 'Praram Long Song'
Method for chicken
Place chicken in medium bowl. Add all ingredients and let marinade for 15 minutes. Cook chicken in a wok or frying pan for a few minutes, then add water and let it all boil for a minute or two, drain and set aside.
Method for sauce
In a mortar and pestle, pound peanut until very fine, and smooth. Set aside. In a wok or pan, heat coconut milk. Keep stirring until coconut oil comes up to the surface, then add red curry paste. Cook until fragrant. Add more coconut milk if you prefer. Season with sugar, tamarind and fish sauce. Add peanut, stir until combined, and let it all cook for a few minutes longer. Remove from heat.
Final Preparation and Serving
Cook broccoli in boiling water for 1.5 minutes. Strain, and place cooked broccoli on serving plate. Next, put the cooked chicken over the broccoli. Pour peanut sauce over the chicken. Serve on a Thai ceramic rectangle platter for nice results. Enjoy with fresh steamed jasmine rice.
cropped-11Serve With Rice

Reviews