Volcano Chicken, 'Gai Pu Khao'

Volcano Chicken, 'Gai Pu Khao'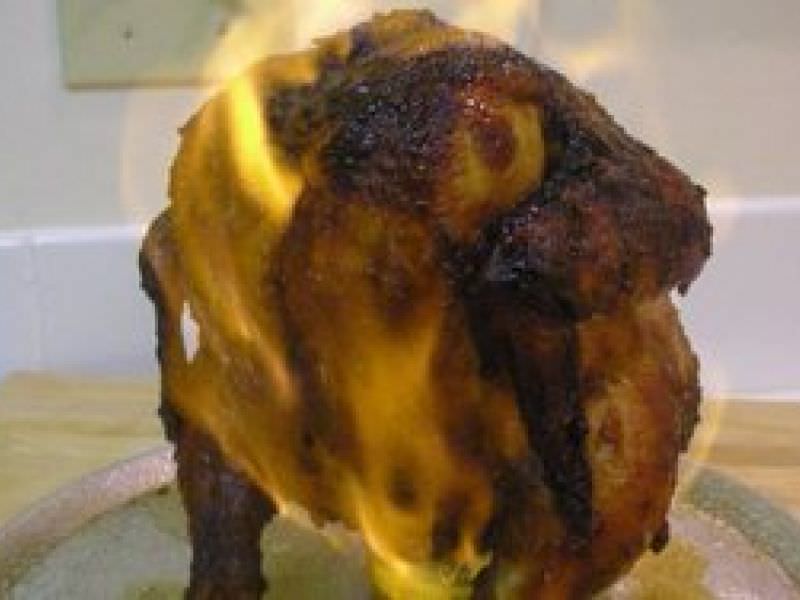 Here is a Thai dish not very common in restaurants, with unique flavor that we know you'll enjoy. To hold the chicken upright, we used a can of 7-Up half-full of soup stock (or use water). When the chicken is placed vertically on the plate and ignited the flames coming from the open body cavity resemble the eruption of a volcano (hence the name). No longer the exclusivity of fancy restaurants, the simple art of flambeing is becoming part of entertaining at home, and this is a great holiday dish.
Method for Volcano Chicken, 'Gai Pu Khao'
In a mortar and pestle, pound the first 5 ingredients into a paste. Then mix this paste with the remaining ingredients. Marinade the chicken for three hours in this mixture, in the fridge.
Heat oven to 400 degrees. Remove chicken from marinade, set aside marinade, and place the chicken over a soda can which is 1/2 full of water or soup stock. This stabilizes your chicken as shown in picture below. Put the chicken in a roasting pan or skillet suitable for catching the drippings, then place the chicken in the oven. Lower the heat to 350 degrees. To prevent your chicken from getting dark on the outside, you can cover with a foil tent.
While the chicken is cooking, put the marinade into a small saucepan over medium heat, cook until it thickens.
Every 20 minutes or so baste the chicken with marinade, and turn chicken to ensure it gets brown on all sides. The chicken should cook for about 90 minutes, or more. The internal temperature should reach 165 degrees.
After the chicken is fully cooked, remove from oven and set for 10 minutes to cool down a bit. In an area free of curtains or napkins or anything else directly nearby, pour 1-2 oz whiskey over the top of the chicken. Promptly set it alight with a match or lighter, it will burn for 30 seconds or so.
Remove soda can from chicken and carve. Serve with sweet chile sauce and jasmine rice or, as we prefer,sticky rice.
Notes on Flambeing (be careful, you are playing with fire after all!)
Heat liquor until warm, or at least room temperature. Do not overheat or alcohol will evaporate. Never pour liquor directly from a bottle into a hot pan or an already flaming dish as the flames may travel to the bottle. To make the flames of a dessert last longer, soak a sugar cube with whiskey and place it on the food before igniting.

Reviews