Singapore Lamb Curry Noodles

Singapore Lamb Curry Noodles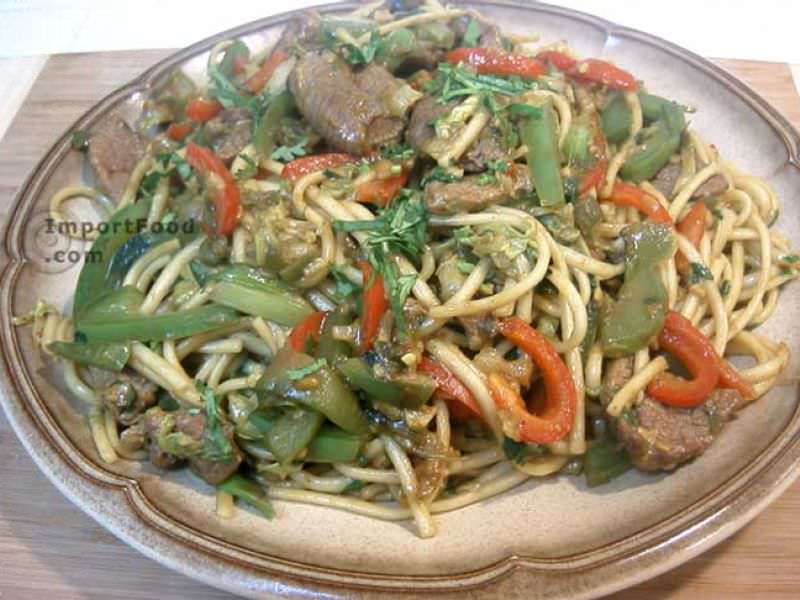 This dish has a very healthy, full-bodied taste. The udon noodles taste very good with this combination of flavors. Goes well with beer, and it's delicious served piping hot. Use lots of fresh cabbage, and we like keep it authentic by using lamb (as the recipe calls for).
Ingredients
For 4 Person(s)
Ingredients
8

Ounces Dried Udon Noodles

3

Tablespoons Vegetable Oil, divided

2

Tablespoons

Dry Sherry

1

Teaspoon Tapioca Starch

2

Tablespoons Soy Sauce

1

Tablespoon Sweet Soy Sauce

2

Tablespoons Coconut Milk

1

Teaspoon Chili-Garlic Sauce

3

Tablespoons

Finely Chopped Peeled Fresh Ginger

2

Large Garlic Cloves, Minced

2

Green Onions, Cut into 1-Inch Pieces

2

Jalapeño Chiles, Seeded, Chopped

8

Ounces

Leg of Lamb Meat, Cut Into 1x1/2x1/4-inch strips

2

Cups

Thinly Sliced Napa Cabbage

3/4

Cup

Matchstick-Size Strips Red Bell pepper

3/4

Cup

Matchstick-Size Strips Green Bell Pepper

4

Tablespoons

Finely Chopped Cilantro
Buy ingredients for this Recipe
Method for Singapore Lamb Curry Noodles
Cook noodles in large pot of boiling salted water until just tender but still firm to bite, stirring occasionally. Drain. Return to pot and mix in 1 tablespoon oil. Stir sherry and tapioca starch in small bowl to blend. Mix in next 5 ingredients. Heat 2 tablespoons oil in large nonstick skillet over high heat. Add ginger, garlic, green onions, and chiles. Sauté until fragrant, about 1 minute. Add lamb, cabbage, and all bell peppers. Stir-fry until lamb is just cooked through,
about 2 minutes. Stir Sherry seasoning mixture and add; simmer until sauce thickens, stirring often, about 2 minutes. Add lamb sauce to noodles in pot. Toss over medium-high heat until noodles are heated and coated with sauce, about 2 minutes. Mix in 2 tablespoons cilantro. Transfer to bowl. Sprinkle with 2 tablespoons cilantro.

Reviews
People in this conversation