Thai Green Curry Salmon and Wild Rice

Thai Green Curry Salmon and Wild Rice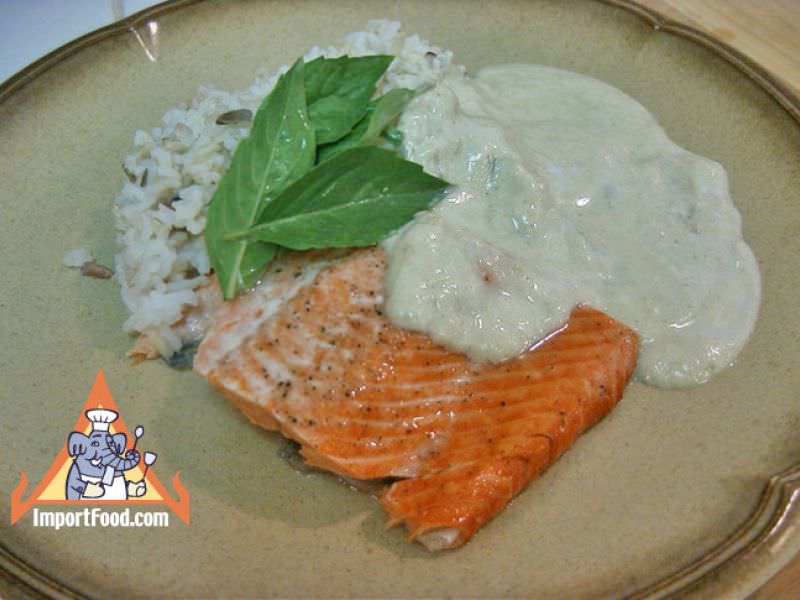 For years we've sold Thai green curry paste made of natural spices, and it maintains flavor for months after opening. Perhaps you might have some at home and you're thinking of an innovative way to use it. Here we've created a very basic Thai green curry, true to authentic flavor but also lacking fiery chile heat because sliced chiles are not added. We ladled the curry over a nice blend of rice and honey-drizzled seafood. You can use wild Alaskan salmon filet, as shown, or any seafood of your choice. Salmon is a great choice because honey-flavored salmon tastes so good with the green curry.
Method for Thai Green Curry Salmon and Wild Rice
We've found that a very good way to prepare seafood is by placing it directly on our nice thick Thai ceramic platter (the 11" x 7" size), sprinkling it with salt, pepper & olive oil, and placing it in a toaster oven for 14 minutes at 325 degrees. We've prepared hundreds of seafood meals with this old platter and our Delonghi toaster oven.
For this recipe we put a salmon filet on the platter, sprinkled it with salt & pepper and baked it at 325 for about 10 minutes, pulled it out and drizzled a tablespoon or two of honey on it, and put it back in the oven for another 4 minutes.
While the salmon is cooking, put half of the coconut milk into a skillet and bring it to a boil, keep it moving with a spatula. Add the lime leaves, green curry paste, fish sauce and palm sugar, mix it up well then add the remaining coconut milk. At this point, stop stirring it entirely and let it boil together, then start stirring it again as you remove it from the heat.
We served this together with a cup of freshly-steamed rice that was a combination of 50% jasmine rice and 50% American wild rice steamed together in a rice cooker. Ladle the curry over it and if you prefer, garnish with Thai basil. The mix of flavors here is very good.

Reviews