Thai Druken Noodles, Kee Mao, Chicken

Thai Druken Noodles, Kee Mao, Chicken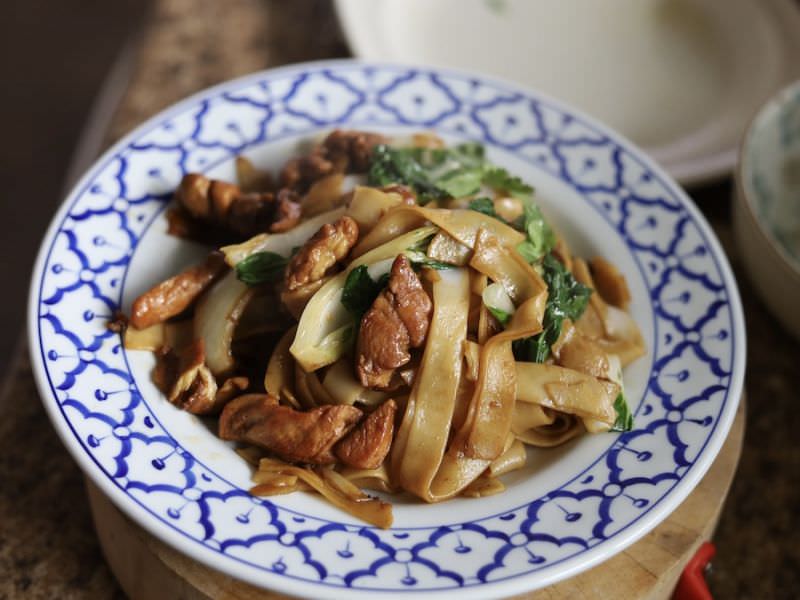 This is a new, slightly less-spicy version of our original kee mao recipe. Kee Mao are drunken noodles, meaning eaten drunk, fiery hot spice level, with beer and/or other alcohol.
The fresh ginger is a nice touch but optional and not authentic Thai for Kee Mao. Add more fresh Thai chilli peppers to increase heat level.
We like using dark thick soy sauce to give the chicken a darker color but you can also use thin soy sauce instead.
This has a touch of MSG which is optional but recommended here to get the optimal flavor.
Method for Thai Druken Noodles, Kee Mao, Chicken
Boil wide rice stick noodles for about 5 minutes. Drain and set aside.
Heat a wok or skillet, add a bit of cooking oil then add Thai chilli peppers, ginger (optional), and spring onion. Stir fry quickly then add chicken and cook. Add dark thick soy sauce, yellow onion, and stir fry then add your cooked wide rice stick followed by about 1/2 cup water, palm sugar, and msg (optional).
Toss together then add your fresh greens and mix quickly then serve.
Enjoy -- this is typically very spicy, and a really filling meal.

Reviews