Ceramic, modern condiment set
Ceramic, modern condiment set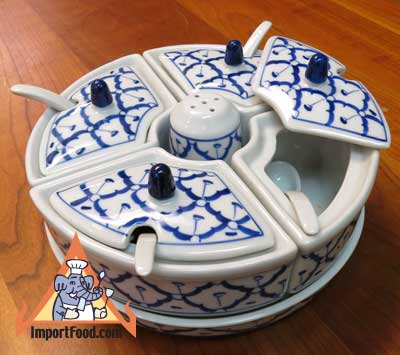 Add to cart
Temporarily Out of Stock

Please see our Traditional Thai Ceramic Condiment Set
A very well-designed, modern ceramic set for Thai condiments. Everything is painted by hand including the round plate base and the shaker in the center used for Thai Pepper Powder.
Each vessel has a 7 oz capacity. The set is 3" tall and 7.5" wide.
Consists of 14 pieces:
1 base plate
4 condiment vessels
4 lids
4 spoons
1 skaker
We also offer a simple Thai Condiment Caddy.
Beautiful pattern, painted by hand using a traditional design unique to Thai artisans. Use in micowave or conventional oven, dishwasher-safe.
Made in Thailand
---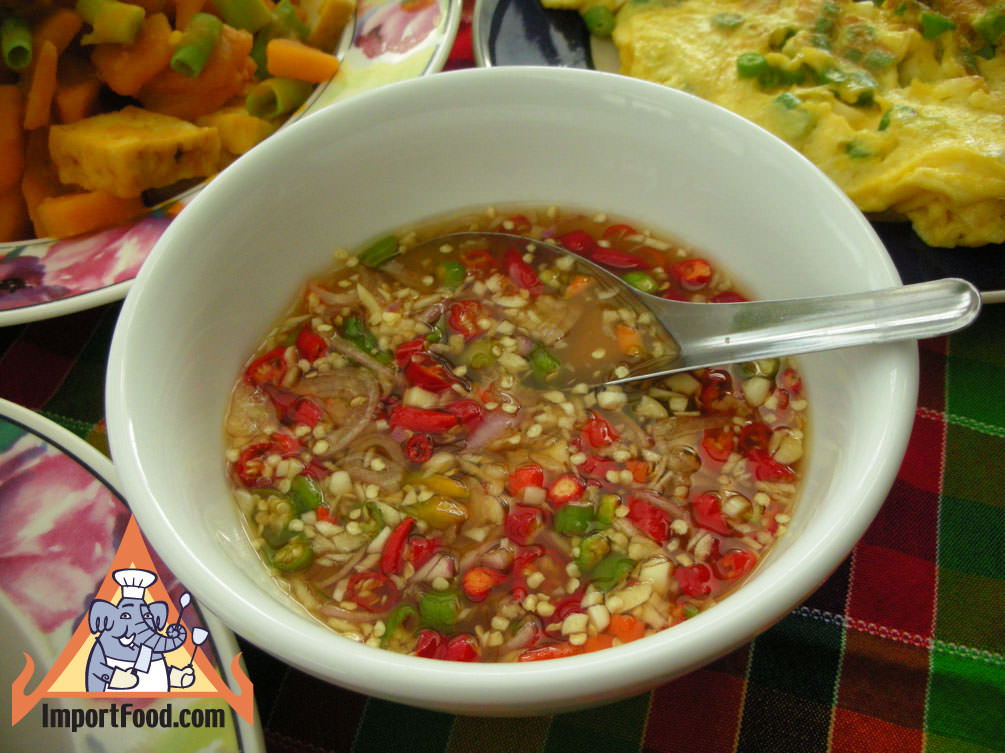 Assorted Thai Table Condiments
In Thailand the first two condiments below (Nam pla prik and Prik dong) are likely be on every household's table together with a separate small dish of plain white sugar and a separate small dish of ground chili powder. Spoonfulls of each are added to suit individual taste. We suggest you make a portion of Nam pla prik and Prik dong and keep in a jar (non refrigerated) for serving as a condiment in this manner. These condiments keep very well.
Prik Si-iew wan, kratiem dong and Khing Ki mao are less common and usually served for particular dishes.
Our Thai Condiment Caddy is a nice way to serve these.
---